Young breast cancer survivor heals by taking control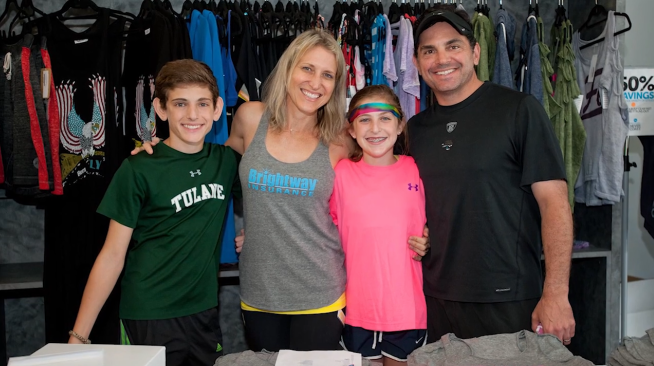 Young breast cancer survivor heals by taking control
Sarah Asher regularly performs a breast self-exam, but she never thought the simple routine would save her life.
"I was 40 years old and I felt a lump under my right underarm," says Asher, a breast cancer survivor treated at Piedmont Atlanta. "It felt a little swollen — it just didn't feel right."
Asher called her gynecologist's office and told her about the lump. Her gynecologist advised her to make an appointment to see breast surgeon Heather Richardson, M.D. right away.
"Dr. Richardson came in and said, 'I'm looking at it and it just doesn't seem like it's anything, but let's go ahead and do a biopsy because you're here,'" says Asher.
After the biopsy, Dr. Richardson told Asher she would call her with the results, whether they were positive or negative for cancer. But when Dr. Richardson called with the results, she had to deliver the news that Asher had breast cancer.
"She said, 'We are going to take care of you and you're going to live a long life and we're going to treat this,'" remembers Asher, whose cancer was diagnosed at stage I.
When evaluating her treatment options, Asher talked to several women her age who were breast cancer survivors.
"What I didn't realize was that there were so many options for treating breast cancer," she explains. "I thought the best thing for me was to get it out and that's what I did."
The recovery process
After undergoing a double mastectomy, Asher says she felt prepared for the challenges of the recovery process.
"I felt like I was another person taking control of it all," she says.
She took advantage of the free services and programs available at Cancer Wellness at Piedmont, including acupuncture treatments, meditation classes and the services of a social worker.
"I see this awesome social worker and she just empathized with me — she just got it," she says. "She made me feel okay for waking up and not wanting to face the world."
Asher says Cancer Wellness was a big part of her healing process.
"They helped me flip it to the other side and be positive, move forward and get better day by day by day."
See more inspiring cancer survivor stories.
Tags
Suggested Articles