What to expect during a mammogram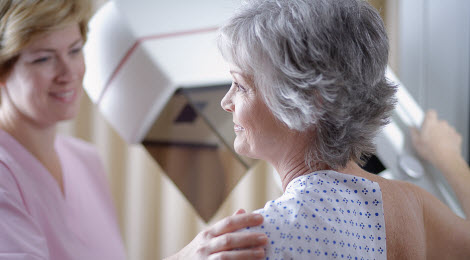 What to expect during a mammogram
Getting a screening mammogram — an X-ray of the breast — can cause anxiety for many women. Perhaps they don't know what to expect, worry about being diagnosed with cancer or don't feel they have the time to squeeze in an appointment.
"It's very common to be nervous before a mammogram," says Beverly Copelan, R.T.(R)(M), manager of Piedmont's Doris Shaheen Breast Health Center. "However, most women are put at ease once their appointment starts and they realize it's not as bad as they were thinking."
Below, Copelan address the most frequently asked questions women have prior to a mammogram.
1. Who needs a mammogram?
According to the American Cancer Society, women with no family history of breast cancer should have their first mammogram at age 40. Those with a mother, sister or daughter who has had breast cancer should begin having mammograms 10 years prior to the age at which the relative was diagnosed, if possible. Talk to your doctor about your personal risk factors if you are younger than 40.
2. Do you need to make an appointment?
Yes, you will need to make an appointment.
3. How long does it take?
Including registration and the mammogram itself, expect your appointment to take about 30 minutes.
4. What can you do to prepare for an appointment?
You only need to bring your insurance card. Many women find it helpful to wear pants and a top, instead of a dress, so they can easily undress from the waist up. Avoid wearing lotion, powder, deodorant or perfume to your appointment, as these products can cause white spots on the X-ray. Many imaging centers provide wipes to remove products prior to the screening.
5. What happens during a mammogram?
When you arrive at your appointment, the mammogram technician will introduce herself, explain the process and then leave the room while you undress from the waist up and put on a medical gown.
During the screening, the technician will take two to three X-ray images of each breast at different angles. The mammogram equipment will compress the breast so the X-ray can more easily penetrate breast tissue. The radiation itself only lasts a few seconds and the risk is considered negligible.
6. Is it painful?
There is some compression involved since the breast tissue must be evened out to get a better picture. However, compression and discomfort only last a few seconds per image. Younger women often have denser breast tissue, so a few additional images may be necessary.
"Everyone is different, but an over-the-counter painkiller may be helpful for women with a low pain tolerance," she says. "Some women benefit from reducing their caffeine intake prior to their appointment, but it is not required."
7. When will you learn the results of your mammogram?
The Doris Shaheen Breast Health Center mails mammogram results within seven to 10 business days. The Center also sends results to each woman's primary care physician, so they can discuss the findings together.
It is normal for first-time patients to receive a letter asking that they return for additional images because the radiologist has no prior images with which to compare your current results. Once there is a record of what your breast tissue looks like, it will be easier for the radiologist to identify changes in future mammograms.
"I tell first time patients, 'Don't be alarmed if the letter tells you that you need to come back for additional images," says Copeland. "If you have no previous mammograms, we have nothing to compare it to."
8. Why is getting a mammogram so important?
"The benefits of getting a mammogram far outweigh the risk from radiation exposure," says Copelan. "You're doing yourself a disservice by avoiding a screening." When detected early, breast cancer has high survival rates. Getting a mammogram can detect cancer in its most treatable stages, which can save your life.
It's important that women stay on top of their breast health and receive routine mammogram screenings.
Learn more about breast cancer screenings.
Tags
Suggested Articles