Sustenance
Tilapia tacos with creamy sauce and crunchy slaw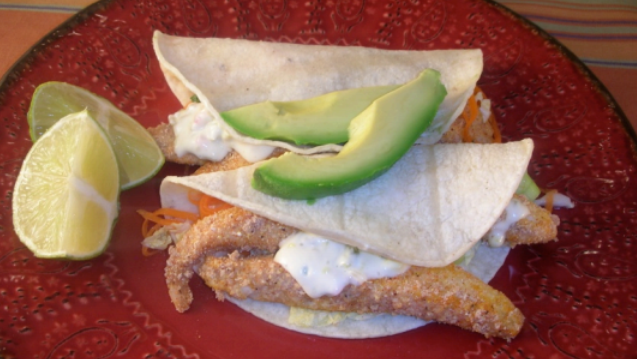 Sustenance
Tilapia tacos with creamy sauce and crunchy slaw
Nancy Waldeck, a chef at Cancer Wellness at Piedmont, created these quick fish tacos that are every bit as crunchy and delicious at the food truck variety, but much friendlier to your waistline.
Taco ingredients:
1 to 2 pounds of tilapia filets, cut into strips

¼ cup panko bread crumbs

2 tablespoons cornmeal

½ teaspoon smoked paprika

4 cups shredded Napa cabbage

½ cup shredded carrots

¼ cup thinly sliced green onions

2 tablespoons chopped cilantro

Juice and zest of 2 limes

2 tablespoons extra virgin olive oil

Kosher salt and pepper to taste

6 to 12 corn tortillas, warm

1 recipe tilapia taco sauce (see below)

Lime and avocado to garnish
Taco instructions:
Preheat the oven to 350F. Combine panko, cornmeal and paprika in a zip-close bag. Add the tilapia to the bag a few strips at a time and shake to coat well. Place tilapia slices on a sheet pan. Bake for five to eight minutes, or until fish is flaky and white.

While the fish is cooking, place the cabbage, carrots, onions, cilantro, lime juice, zest and oil in a bowl. Toss together, then add salt and pepper to taste.

Place the slaw and a few slices of tilapia in each tortilla. Top with a dollop of sauce, avocado and lime.
Serving size: 2 tacos
Taco sauce ingredients:
½ cup light mayonnaise

1 tablespoon lime juice

2 tablespoons chopped pickled jalapeños

1 tablespoon chopped cilantro

Kosher salt and pepper to taste
Taco sauce instructions:
Place all ingredients in a bowl and stir to combine.
Check out more recipes and nutrition tips from Cancer Wellness experts.
Share your thoughts
Suggested Articles