Sustenance
Heirloom tomato and summer squash gratin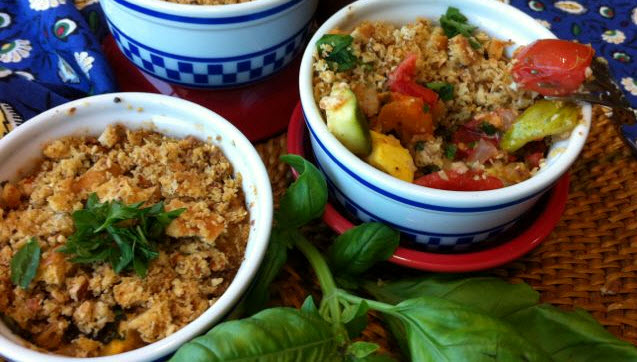 Sustenance
Heirloom tomato and summer squash gratin
Nancy Waldeck, a chef at Cancer Wellness at Piedmont, created a healthy vegetable gratin with a twist — there are no potatoes to be found. This dish is a great way to use up the extra tomatoes and summer squash in your kitchen.
Ingredients:
3 cups chopped summer squash or zucchini, or combination

4 cups chopped heirloom tomatoes

¼ cup olive oil, divided

1.5 cups fresh sourdough or whole wheat bread crumbs

1.5 cups roasted, very finely chopped walnuts or almonds, or combination

1.5 cups chopped red onion

3 cloves garlic, minced or grated

½ cup chopped parsley, oregano, basil or combination

2 teaspoons red pepper flakes

½ cup grated aged asiago or parmesan cheese, divided
Instructions:
Place the chopped tomatoes and squash in a colander over a bowl. Sprinkle with sea salt and stir. Allow to drain for at least 30 minutes.

Preheat the oven to 350 F. Spray six ramekins or one 9x12-inch baking dish with cooking spray.

Heat three tablespoons of oil in a large sauté pan, and add in the breadcrumbs and nuts. Stir until coated, remove from the pan and place in a bowl.

Add the remaining one tablespoon of oil to the pan, and over medium-high heat, sauté the onion until wilted (about seven to eight minutes). Stir in the tomatoes and squash, and cook for an additional two to three minutes or until veggies are warm. Add in the garlic and cook until the garlic is aromatic (about one minute). Add in the herbs and the red pepper flakes.

Spoon half of the veggie mixture into your prepared dish(es). Top with half of the cheese. Spoon the rest of the veggies into the dish. Top with the remaining cheese and breadcrumbs. Slide into the preheated oven and cook for 30 minutes or until the top is golden.
Check out more recipes and nutrition tips from Cancer Wellness experts.
Share your thoughts
Suggested Articles