Healthy strawberry breakfast cobbler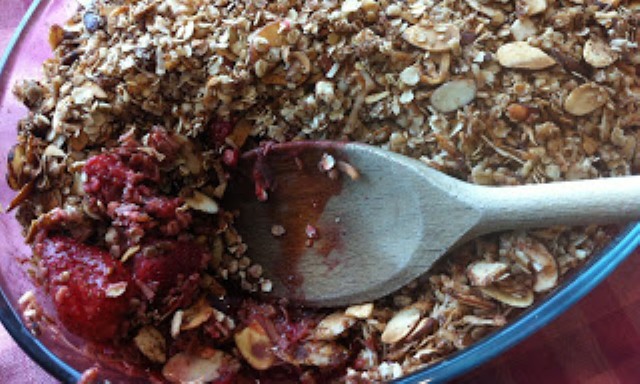 Healthy strawberry breakfast cobbler
Dessert for breakfast? It's not too good to be true, says Nancy Waldeck, a chef at Cancer Wellness at Piedmont. While her cobbler recipe may taste decadent, it is packed with good-for-you fruit, grains and protein. Even better, you can prepare most of the ingredients the night before.
In the morning, simply spray your pan, add the strawberries and topping, then bake in a 350-degree oven for about 20 minutes.
Ingredients:
2 cups of oatmeal

2½ cup of sliced almonds

2 tablespoons of brown sugar

2¼ cup of unsweetened coconut flakes

Zest and juice of one orange

1 container of fresh ripe strawberries

Nonfat Greek yogurt for garnish
Instructions:
Toss the oatmeal, almonds, sugar and coconut together and place it on a baking sheet. Bake the mixture for about 20 minutes at 350 degrees Fahrenheit or until it starts to turn brown. Remove from the oven and set aside. Leave the oven on.

While the topping is baking, slice or chop your strawberries. Add them to a bowl and mix well with the orange juice and zest.

After you have finished chopping and the topping is done, spoon the strawberry mixture into a 9" x 12" dish greased with non-fat butter-flavored cooking spray. Sprinkle the topping over the fruit and spray one more time. Bake for 30 minutes or until the cobbler is bubbly and golden.

Serve with a big dollop of nonfat Greek yogurt on top.
Check out more recipes and nutrition tips from Cancer Wellness experts.
Tags
Suggested Articles