Sustenance
Roasted red pepper Caesar dip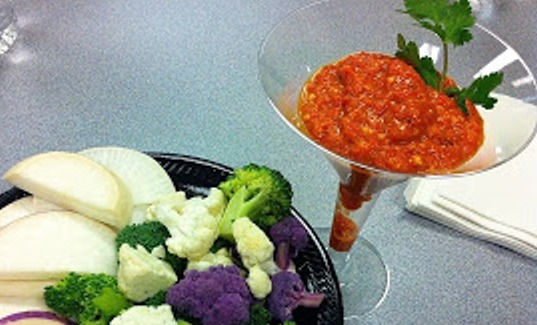 Sustenance
Roasted red pepper Caesar dip
Nancy Waldeck, a chef at Cancer Wellness at Piedmont, created this dip, which can also serve as a tasty salad dressing. Made with delicious smoky red peppers and slightly salty Parmesan, it is just the thing to get your family to eat their veggies.
Ingredients:
½ cup of extra virgin olive oil

1 teaspoon of soy sauce or tamari

4 roasted red peppers

2 whole garlic cloves, peeled

Zest and juice of one lemon

3 tablespoons of red wine vinegar

2 teaspoons of Dijon mustard

2 tablespoons of light olive oil mayonnaise

½ cup of shredded Parmesan cheese

Sea salt and black pepper to taste
Instructions
Simply combine all of the ingredients and puree in a food processor, then enjoy!
Check out more recipes and nutrition tips from Cancer Wellness experts.
Share your thoughts
Suggested Articles