Sustenance
Curried chicken salad with roasted sweet potatoes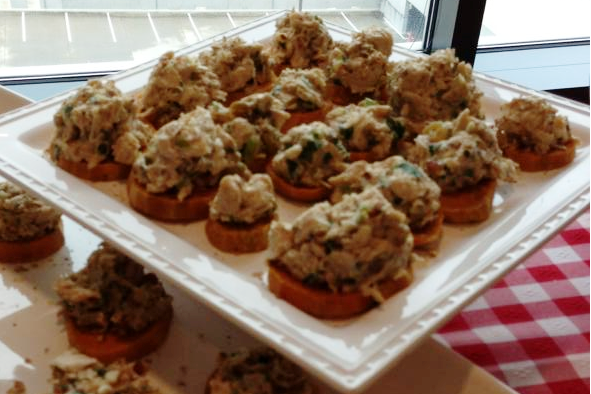 Sustenance
Curried chicken salad with roasted sweet potatoes
Nancy Waldeck, chef at Cancer Wellness at Piedmont, created this healthier twist on a classic: curried chicken salad served on roasted sweet potato slices makes the dish more heart-friendly.
What's heart-healthy about this dish?
Sweet potatoes: Vitamins A, C, and E; copper; fiber

Raisins: Research has shown that antioxidants in raisins fight the growth of a type of bacteria that can cause inflammation and gum disease. People with gum disease – which affects up to 50 percent of American adults – are twice as likely to suffer from heart problems.

Nuts: Nuts are chock-full of vitamins, minerals, heart-healthy monounsaturated fats and low levels of saturated fats. Research suggests that people who eat nuts – walnuts, pecans, almonds, hazelnuts, pistachios, pine nuts and peanuts (which actually are legumes) – two to four days or more per week have a lower incidence of heart disease than people who eat them less often.
Ingredients:
2 large sweet potatoes, peeled and cut into slices about half an inch thick

1 tablespoon olive oil

Salt and black pepper to taste

2 large boneless, skinless chicken breasts, roasted and chopped

½ cup chopped green onions, green parts only

¼ cup light mayonnaise

¼ cup Greek yogurt

1 teaspoon garam masala (or curry powder)

½ teaspoon cumin

¼ teaspoon cayenne pepper (or to taste)

Zest and juice of a lemon

¼ cup sliced almonds, toasted

½ cup dried fruit (golden raisins, cranberries, apricots), chopped

¼ cup chopped parsley
Instructions:
Preheat the oven to 425 F.

Toss the sweet potatoes with the oil. Arrange them in a single layer on a baking sheet and salt and pepper to taste. Bake until tender and lightly browned, about 20 minutes. Remove from the oven and set aside.

While the sweet potatoes are cooking, make the chicken salad by combining the chicken, green onions, mayo, yogurt, garam masala, cumin, cayenne, lemon juice and zest. Season to taste with salt and pepper.

Place several sweet potato slices on a plate and top with a dollop of chicken salad on each one.

Garnish with the almonds, dried fruit and parsley.
Check out more recipes and nutrition tips from Cancer Wellness experts.
Share your thoughts
Suggested Articles