Sustenance
Black bean and quinoa stew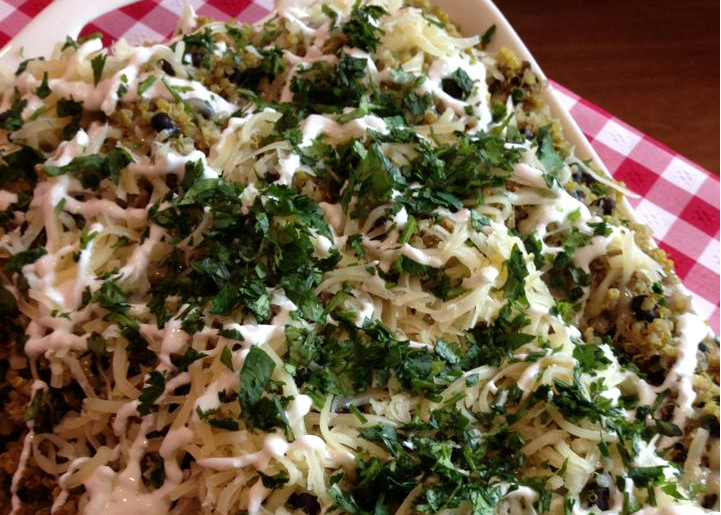 Sustenance
Black bean and quinoa stew
Nancy Waldeck, chef at Cancer Wellness at Piedmont, created this nutritious take on black bean soup for the Junior League of Atlanta's Heart Healthy luncheon. Try this recipe at home to get all the benefits of the dish's heart-healthy ingredients.
What's heart healthy about this stew?
Black or kidney beans: Contain B-complex vitamins, niacin, folate, magnesium, omega-3 fatty acids, calcium and soluble fiber.

Yogurt: Research shows yogurt may protect against gum disease. Left unchecked, gum disease may elevate a person's risk for heart disease.

Garlic: Contains fiber and phytochemicals, which are plant chemicals that help protect against disease and boost immunity.
Ingredients:
1.5 cups quinoa

1 tablespoon olive oil

3 cups vegetable broth

1/2 teaspoon sea salt

1 tablespoon turmeric

3 (15-ounce) cans low-salt black beans

2 grated garlic cloves

2 tablespoons chopped cilantro, plus more for garnish

2 tablespoons lime juice

1/2 cup "faux" creme fraiche*

1/2 cup 50 percent light cheddar cheese
Quinoa instructions:
Place the quinoa in a slow cooker. (Chef Nancy used a six-quart slow cooker.) Add the olive oil, broth, salt and turmeric.

Cover and cook on low for four to five hours, or on high for two to three hours. The quinoa is done when the liquid is almost completely absorbed.

Add the black beans with their sauce and close the lid. Cook on high for about 20 minutes, or until the beans are warm. Stir in the garlic, cilantro and lime juice. Serve topped with the faux creme fraiche, more cilantro and cheese.
*Faux Creme Fraiche instructions:
Add 1 tablespoon of lemon juice to ½ cup of nonfat Greek yogurt.
Check out more recipes and nutrition tips from Cancer Wellness experts.
Share your thoughts
Suggested Articles