Sustenance
Sweet potato and leek gratin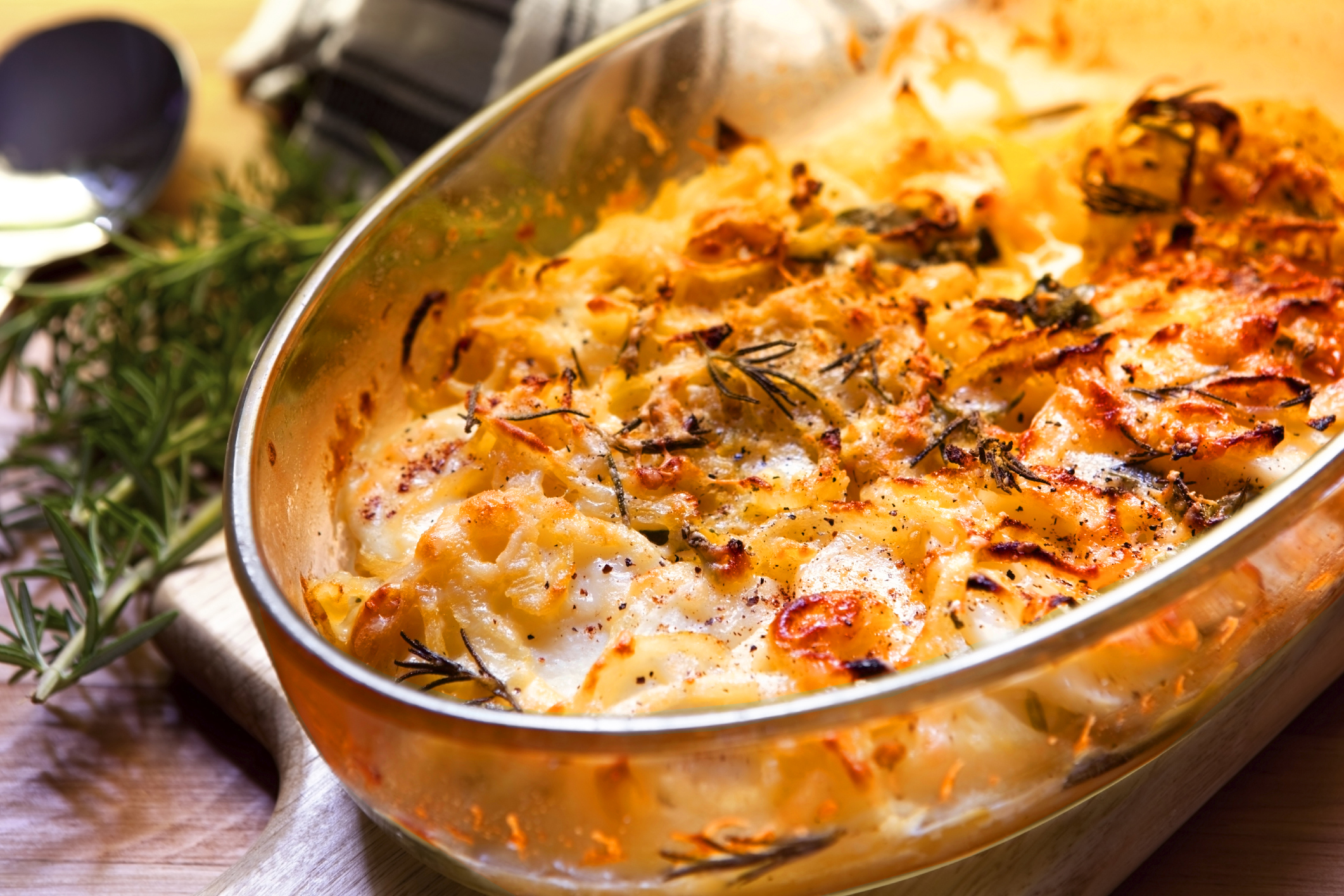 Sustenance
Sweet potato and leek gratin
Need a healthy side dish to bring to the office pot luck or family holiday dinner? Nancy Waldeck, a chef at Cancer Wellness at Piedmont, suggests this sweet potato and leek gratin. It packs both a sweet and salty taste, and is sure to be a crowd pleaser.
You're probably familiar with potatoes au gratin, but this recipe brings nutrition-packed sweet potatoes and leeks to the table. If you aren't familiar with leeks, they are onion-like, leafy stalks packed with flavonoid antioxidants, fiber, vitamins and minerals. Chef Nancy also uses nonfat yogurt instead of cream to cut down on the dish's fat and calories.
Ingredients:
2 lbs sweet potatoes, peeled, thinly sliced, divided

1.5 lbs leeks, cut in half and thinly sliced, divided

2 tbsp chopped fresh sage, divided

1 tbsp chopped fresh rosemary, divided

1 cup grated Gruyere, divided

1 Granny Smith apple, peeled, cored and thinly sliced, divided

¾ cup evaporated skim milk

1 garlic clove, grated

1 tsp salt

1 tbsp unsalted butter

½ cup nonfat plain yogurt (not Greek yogurt)

1 tsp salt and ½ tsp freshly-ground black pepper to taste
Instructions:
Preheat the oven to 400 F.

Cover a gratin dish with nonstick spray. Arrange half of the sweet potatoes evenly in the dish. Top with half of the leeks, herbs, and ½ a cup of gruyere. Top with apple slices and sprinkle with the salt and freshly-ground pepper. Arrange remaining potato slices, followed by the leeks and apples. Sprinkle with remaining herbs.

Bring the milk, garlic and salt to simmer in heavy small saucepan (or in microwave) and pour evenly over the potato mixture. Season with salt and pepper, and dot with 1 tbsp of butter.

Cover tightly with foil and bake until tender when pierced with a knife (about 30 minutes).

Reduce the oven to 350 F.

Remove the gratin from the oven; uncover and drizzle with yogurt. Sprinkle with remaining ½ cup cheese.

Continue baking, uncovered, until yogurt bubbles thickly at edges and top is browned (about 25 minutes).

Cool slightly and serve.
Check out more recipes and nutrition tips from Cancer Wellness experts.
Share your thoughts
Suggested Articles