Sustenance
Healthy chocolate ginger bark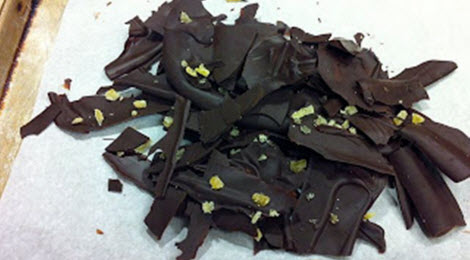 Sustenance
Healthy chocolate ginger bark
Want a healthy chocolate treat that's delicious and simple enough to give as a last-minute gift? Nancy Waldeck, a chef at Cancer Wellness at Piedmont, says it's possible with dark chocolate ginger bark.
The recipe calls for chocolate that is at least 60 percent cacao, which means it has more antioxidants and flavor, but less fat, sugar and preservatives.
"You can easily create this gift at the last minute, making sure that no one on your holiday list is left behind because of time," says Waldeck. "From start to finish, the bark only took two and a half hours. And when I say finish, I mean in the tin with tissue paper and a bow."
Not all chocolate is the same, she adds: "Make sure you are a 'label detective' before you buy chocolate to make the bark."
Three things to look for when purchasing chocolate:
The cacao or chocolate content should be above 60 percent

The first ingredient should be chocolate, cocoa or cocoa solids – not sugar.

You should not see the words "Dutch processed" or "processed with alkali." The Dutch process uses alkali, so these two phrases are the same.
"In the past, when the public did not like bitter chocolate, the Dutch process made the chocolate softer and less bitter. Today, we are used to a more bitter flavor, so it is not as big an issue," explains Waldeck. "When the chocolate is processed with alkali, it strips a great deal of the antioxidants out of the chocolate. Unfortunately, many of the chocolates that are extremely popular are Dutch-processed. But it's not hard to find good chocolate. Try the Lindt, Ghirardelli or Scharffen Berger chocolate brands. Trader Joe's also has a 72 percent dark chocolate bar that tastes great."
Chef Nancy's luscious, easy, better-for-you chocolate bark
Ingredients:
4 (3.5 oz) 70-90 percent dark chocolate bars

½ cup of one of the following: toasted nuts, dried fruit (such as cherries, blueberries or cranberries) or crystallized ginger
Instructions:
Melt the chocolate over a double boiler or in the microwave.

Pour the melted chocolate on a piece of parchment paper.

Sprinkle the nuts, dried fruit or crystallized ginger over the chocolate and place in the refrigerator until the chocolate hardens.

Break the bark into pieces and serve.
Check out more recipes and nutrition tips from Cancer Wellness experts.
Share your thoughts
Suggested Articles