Turning lemonade into love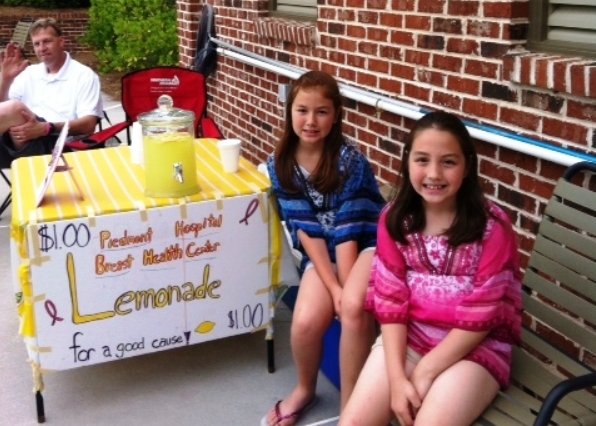 Turning lemonade into love
In February, Francis Wetherington of Kennesaw, Ga., had a loving husband, two young daughters and 40 years of memories. And she had breast cancer.
"I got a baseline test at age 37 and it was clean, and I had no family history, so it definitely came as a shock," Francis said, of her Stage I breast cancer diagnosis. "The tumor was in my left breast and was very aggressive, so had I waited to get my annual mammogram or put it off, my situation now might have been very different."
Francis said she was scared, but after her first visit with Piedmont surgeon William Barber, M.D., she began to face the cancer with strength rather than fear.
"When you are diagnosed with cancer, there's a huge psychological aspect of your treatment," Francis said. "I got this horrible news and I didn't know what to do, what the plan would be or who to talk to until I met with Dr. Barber. He basically took me through Cancer 101 and was always there for me. I didn't have to worry about all the odds and ends of my treatment, because he was there for everything. This is how healthcare is supposed to work. I could not believe how smooth the whole process was and when I walked out of his office after our first meeting, I had hope that I didn't have before."
Francis' two daughters, Amelia, 9 and Kalieann, 10, saw the change in their mother from being scared and feeling lost to having hope and optimism.
They also knew that their mother could afford the treatments she was receiving, but others may not be so fortunate. So they decided to prop up a lemonade stand in their neighborhood and donate all of the proceeds to the Doris Shaheen Breast Health Center at Piedmont Atlanta.
"We made a poster and the lemonade and we were walking around, selling them for $1 a cup," Amelia said. "Some people even gave us more than $1. We just wanted to help people the way our Mom was helped."
Francis said when her daughters came to her with the idea, she began to cry.
"I just thought it was beautiful," she says. "They saw the hope Dr. Barber and his staff gave me, and they wanted to give others hope, too."
The girls were able to raise a little over $200 for the cause. Amelia also asked for donations instead of presents for her birthday in May, which raised an additional $100. Likewise, Kalieann asked for donations for the Breast Health Center at her birthday party in October, which raised an additional $575. Dr. Barber sat down with the girls over the summer to thank them for their generosity.
"That can help other people," Dr. Barber explained to them. "Sometimes, people don't have money for mammograms so when we can pay for their mammograms ahead of time through donations like yours, they don't have to wait and we can give them a test that they may never have been able to get before."
Dr. Barber told the girls he had never met anyone who had donated money to the Cancer Center through a lemonade stand.
"You're making my kids look like they need to step it up!" he joked, which garnered a few giggles from Amelia and Kalieann.
He also explained the procedures their mother was going to undergo once she finished her chemotherapy, which included a double mastectomy and reconstructive surgery.
"She will be very peaceful and calm and won't feel any pain while she's going through it," Dr. Barber assured them. "We'll make her cancer go away so she can live a long, long time. We're going to make sure your mom is well, but a loving family is a big help."
See more inspiring cancer survivor stories.
Tags
Suggested Articles