Knowledge
A multidisciplinary approach to healthcare's most complex diseases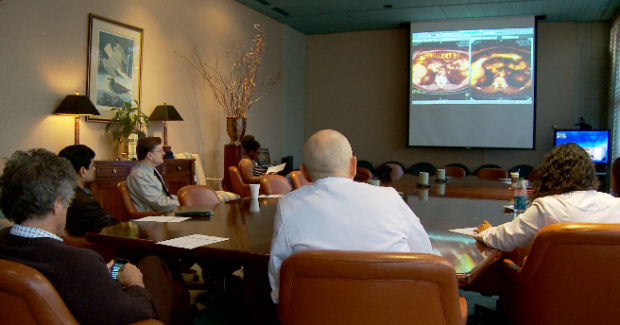 Knowledge
A multidisciplinary approach to healthcare's most complex diseases
Liver, pancreatic and bile duct system diseases are among the most difficult illnesses to treat because the functions of the organs are interconnected. To address the complexity of these diseases, Piedmont's hepato-pancreato-biliary (HPB) team is comprised of a range of experts dedicated to treating the patient's unique condition.
"The liver is clearly one of the most important organs in the body," says Marty Sellers, M.D., a multi-organ transplant surgeon. "It's the largest internal organ and it is involved in so many metabolic processes, including cleansing the blood, collating the waste product into waste or bile, and putting the bile into the intestine. It also takes the nutrients that are absorbed from the intestine and reformulates them into chemicals or proteins that your body can use."
How the HPB team works together to improve outcomes
The HPB team is comprised of multiple disciplines to properly address the complexity of each patient's case. The team can include:
Surgeons

Radiation oncologists

Medical oncologists

Hepatologists

Gastroenterologists

Interventional radiologists

Diagnostic radiologists
"Truly, it's a multidisciplinary team," explains Dr. Sellers. "The reason for that is that the diseases that affect the liver, pancreas or bile duct often require multiple modalities of treatment. No one person can have all of the tools in their bag to treat the diseases."
He adds that it is not uncommon to have several physicians involved with the patient's case.
"It's actually very uncommon to have a patient who needs only one or two physicians of the team," says Dr. Sellers.
"The disease processes are complicated enough to where it requires perspectives from multiple members and each physician relies not just on his or her expertise, but as much or more so on the expertise provided by other members of the team."
The HPB team is unique because it contains in one setting all of the members of the team needed to treat diseases of the liver, pancreas or bile ducts. The team is also prepared to handle transplantations, as is often necessary for patients with liver cancer.
"Many liver cancers actually require transplantation for a cure," says Dr. Sellers. "The HPB team is embedded within the Piedmont Transplant Institute. It's convenient for the patients and the referring physicians. A lot of diseases, depending on their stage, will be treated more appropriately with transplant versus resection or non-transplant means."
Having an in-house HPB team also streamlines the process for referring physicians.
"The referring physician doesn't have to sort that out before he or she sends the patient to us," he explains. "They just send us a patient who has a problem with their liver, pancreas or bile ducts, and we decide at that point the best route to choose."
Learn more about cancer prevention, screening and treatment.
Tags
Share your thoughts
Suggested Articles