Sustenance
Coconut cranberry cookies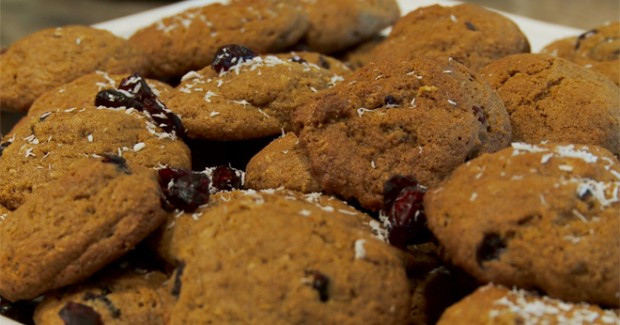 Sustenance
Coconut cranberry cookies
Next time you bake cookies, skip the chocolate chips and try Cancer Wellness at Piedmont Chef Nancy Waldeck's healthier recipe with cranberries and coconut.
Note: This recipe is best when the dough is allowed to chill for at least four hours or overnight. This also means the dough can be premade and frozen for later use.
Ingredients:
1 cup of buckwheat flour

1 cup of brown rice flour or quinoa flour

1 tsp of cinnamon

½ cup of tapioca starch or tapioca flour

1.5 tsp of xanthan gum

1.5 tsp of baking soda

1 tsp of fine sea salt

½ cup of unsalted butter

½ cup of unsweetened apple sauce

1.5 cups of dark brown sugar

2 large eggs

¼ cup of skim milk

1 tbsp of vanilla extract

½ cup of dried cranberries

½ cup of dried unsweetened coconut
Instructions:
Whisk together the flours, cinnamon, tapioca starch, xanthan gum, baking soda and sea salt in a large bowl.

In the bowl of a standing mixer, beat the butter, apple sauce, brown sugar, eggs, skim milk and vanilla extract until combined. Add in the dry ingredients in three additions, a little bit at a time and beat until just combined.

Stir in cranberries and coconut. Cover the bowl with plastic wrap and chill the dough for at least four hours or overnight.

Preheat the oven to 350 degrees. Using a tablespoon, place balls of the dough on a parchment paper-lined baking sheet.

Bake for 13 to 15 minutes or until cookies are golden and firm to the touch.
Check out more recipes and nutrition tips from Cancer Wellness experts.
Share your thoughts
Suggested Articles