Sustenance
Want a healthy change for breakfast?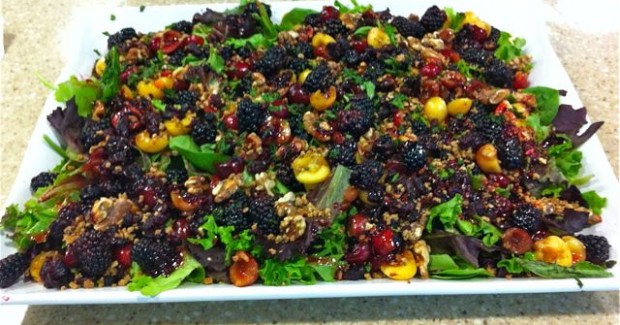 Sustenance
Want a healthy change for breakfast?
Here's a scrumptious breakfast salad courtesy of Chef Nancy Waldeck with Cancer Wellness at Piedmont.
Breakfast salad
3 cups pitted fresh cherries, halved

3 cups fresh berries

6 cups baby greens

1 cup dried cranberries or blueberries

½ cup grapenuts, toasted (in a 350 degree oven, for about 6 to 7 minutes)

½ cup walnuts, toasted and chopped

OJ salad dressing*
Arrange the cherries and berries on top of the baby greens, which have been spread out on a platter. Sprinkle with the grapenuts and walnuts, and drizzle with dressing.
OJ salad dressing*
3 tablespoon blackberry or blueberry jam

¼ cup fresh lemon juice

1/3 cup extra virgin olive iil
Whisk the ingredients together in a small bowl.
Check out more recipes and nutrition tips from Cancer Wellness experts.
Share your thoughts
Suggested Articles