Sustenance
The perfect pancake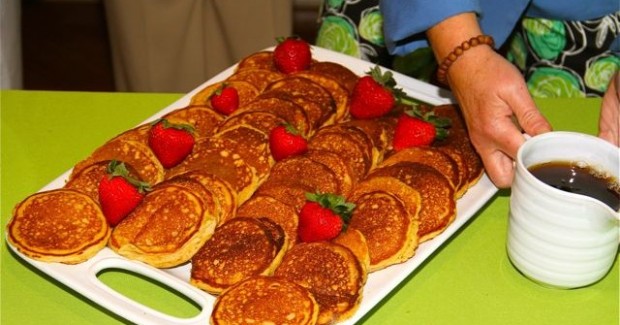 Sustenance
The perfect pancake

Here's a great new spin on an old breakfast dish. Try these perfect pancakes courtesy of Chef Nancy Waldeck with Cancer Wellness at Piedmont.
Perfect Pancakes
1 Cup Canned Cannellini Beans, Drained and Rinsed Well
1/2 Cup Regular Oats
2 Eggs
1/3 Cup Honey
1/2 Cup Skim Milk
1/2 Cup Whole Wheat Flour
1 1/2 Tsp Baking Powder
1/2 Tsp Baking Soda
1/4 Tsp Table Salt
Step One:
In a blender or food processor, combine the oatmeal and beans. Process until combined. Add the eggs, honey and milk, and process again until well blended.
Step Two:
In another bowl, toss together the flour, baking powder, baking soda and salt. Add the bean mixture and stir with a fork until just blended -- a few lumps are fine.
Step Three:
Preheat a non-stick griddle or skillet. Drop by 1/4 cup full onto pan preheated on medium high heat. Cook for about 2 minutes for the first side. It will be ready to flip when the edges are set, and bubbles appear. Turn and cook the second side for about 1 minute. When done, Perfect Pancakes may be "browner' in color than other pancakes.
Share your thoughts
Suggested Articles