Sustenance
The perfect pancake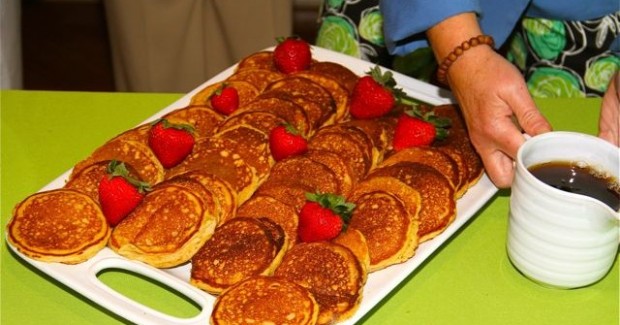 Sustenance
The perfect pancake
Here's a great new spin on an old breakfast dish. Try these perfect pancakes, courtesy of Chef Nancy Waldeck with Cancer Wellness at Piedmont.
Ingredients
1 cup canned cannellini beans, drained and rinsed well

1/2 cup regular oats

2 eggs

1/3 cup honey

1/2 cup skim milk

1/2 cup whole wheat flour

1.5 teaspoon baking powder

1/2 teaspoon baking soda

1/4 teaspoon table salt
Instructions
In a blender or food processor, combine the oatmeal and beans. Process until combined. Add the eggs, honey and milk, and process again until well blended.

In another bowl, toss together the flour, baking powder, baking soda and salt. Add the bean mixture and stir with a fork until just blended — a few lumps are fine.

Preheat a non-stick griddle or skillet. Drop by 1/4 cup full onto pan preheated on medium high heat. Cook for about 2 minutes for the first side. It will be ready to flip when the edges are set, and bubbles appear. Turn and cook the second side for about 1 minute. When done, perfect pancakes may be "browner" in color than other pancakes.
Check out more recipes and nutrition tips from Cancer Wellness experts.
Share your thoughts
Suggested Articles