Sustenance
Gluten-free veggie satay with peanut sauce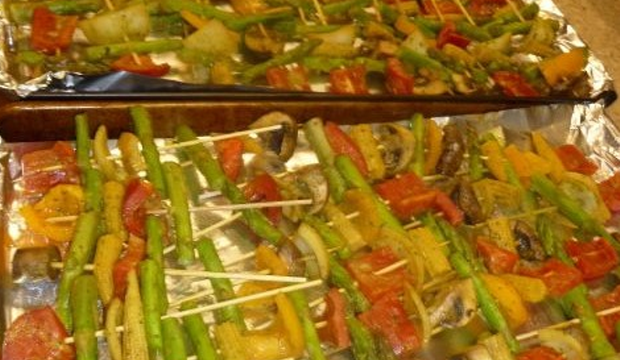 Sustenance
Gluten-free veggie satay with peanut sauce
Here's another great, gluten-free recipe from Chef Nancy Waldeck with Cancer Wellness at Piedmont.
Veggie satay with peanut sauce
3 Kaffir lime leaves or 3 tablespoons lime zest

½ cup packed cilantro

6 cloves garlic

1 (16-ounce) can coconut milk

3 tablespoons canola oil

3 tablespoons garam masala

3 tablespoons honey

¼ cup tamari

½ teaspoon each sea salt and pepper

1 teaspoon turmeric

6 asparagus spears cut into 2-inch lengths

1 medium red or yellow onion cut into 1-inch pieces

6 baby corn, cut in half

2 red, yellow or orange bell peppers cut into 1-inch pieces

10 small baby bella mushrooms, halved if necessary

Easy peanut sauce**
Instructions:
Place the first 11 ingredients in a blender and puree to make a marinade.

Place the veggies in the marinade and set aside for about 30 minutes while you make the peanut sauce. Remove the veggies from the marinade and thread them on skewers. Grill or broil until browned on the edges.
**Easy peanut sauce ingredients:
2 tablespoons canola oil

2 tablespoons red curry paste

1 cup light coconut milk

2 tablespoons honey

1 tablespoon tamari or light soy sauce

1 teaspoon lemon juice

Finely chopped roasted peanuts
Peanut sauce instructions:
Heat the oil over medium heat in a sauce pan, add the curry paste and cook and stir until fragrant.

Stir in the coconut milk, honey, tamari lemon juice and peanut sauce.

Serve in small bowls as a dipping sauce for the satays.
Check out more recipes and nutrition tips from Cancer Wellness experts.
Share your thoughts
Suggested Articles