Sustenance
Gluten-free sautéed spinach with sesame dressing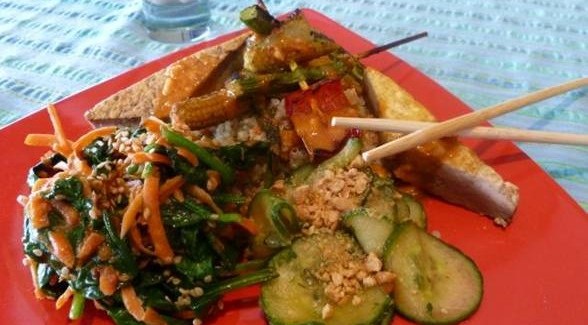 Sustenance
Gluten-free sautéed spinach with sesame dressing
Want to make a great gluten-free Asian meal? Chef Nancy Waldeck with Cancer Wellness at Piedmont shared this recipe for sauteed spinach, cucumber salad and dry tofu.
Sauteed spinach ingredients:
1 bag spinach

1 tablespoon canola oil

1 cup grated carrot

Sesame dressing*

Sesame seeds
Spinach instructions:
Heat the oil in a large sauté pan and cook and stir the spinach until wilted.

Remove from the heat and toss with dressing until coated.

Garnish with sesame seeds.
*Sesame dressing ingredients:
1 tablespoon honey

1 tablespoon sake

½ tablespoon tamari

1 teaspoon sesame paste (tahini)

2 to four tablespoons canola oil
Sesame dressing instructions:
Whisk the honey, sake, tamari and tahini together. Add in the oil a tablespoon at a time, to taste.
Cucumber salad ingredients:
2 cucumbers, sliced thinly on a mandolin

½ cup chopped cilantro

1 clove garlic

1 serrano, jalapeno or Thai chili, ribbed and seeded

2 tablespoon lime juice

1 tablespoon tamari

1 teaspoon honey

½ teaspoon chili flakes

½ coarsely chopped roasted cashews
Cucumber salad instructions:
Toss the cucumbers and cilantro together in a colander and let sit while you make the dressing.

Place the garlic, chile, lime juice, tamari, honey and chili flakes in a food processor and puree. Spoon the mixture over the cucumber and toss to incorporate. Sprinkle with cashews and serve.
Dry fry tofu ingredients:
16 ounces extra-firm tofu

½ cup Braggs or tamari

1 tablespoon rice vinegar

½ cup minced onion

3 cloves garlic, grated

½ cup sake
Dry fry tofu instructions:
Cut your tofu in triangles or strips. Put a clean kitchen towel on the top of a cutting board, place your tofu on it and place another towel on top. Put a skillet on top of the towel and set aside for an hour.

In a nonstick skillet, dry fry the tofu until golden on both sides, pressing the top to release any other water.

In a large bowl, whisk together the Braggs, vinegar, onion, garlic and sake. Place the toasted tofu in the bowl and set aside for at least 30 minutes before using it.
Check out more recipes and nutrition tips from Cancer Wellness experts.
Share your thoughts
Suggested Articles