Sustenance
Almond chocolate cherry cookies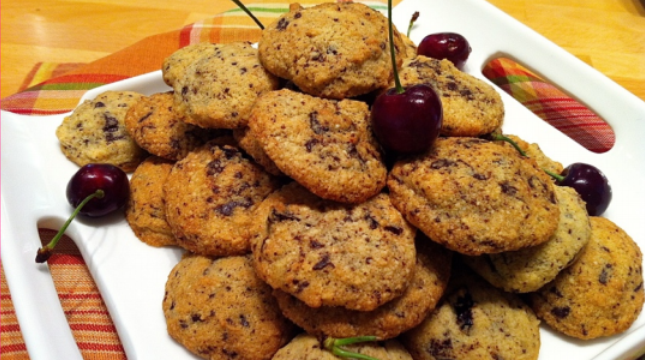 Sustenance
Almond chocolate cherry cookies
For a healthy twist on classic chocolate chip cookies, Nancy Waldeck, a chef with Cancer Wellness at Piedmont, added dried cherries and dark chocolate.
Ingredients:
4 tablespoons unsalted butter

4 tablespoons raw or turbinado sugar

1 large egg

1.5 cups almond flour

¼ teaspoon fine sea salt

½ teaspoon almond extract

¼ teaspoon baking soda

¼ cup dried cherries

¼ cup chopped dark chocolate (use at least a 60 percent cocoa solids bar)
Instructions:
Preheat your oven to 375 degrees. Line two baking sheets with parchment paper or aluminum foil.

Using a standing mixer or hand mixer, cream together the butter and sugar. After the batter is well-creamed and light in color, mix in the egg.

Add the almond flour, salt, almond extract and baking soda to the batter mixture and mix well. Fold in the dried cherries and chocolate chunks with a spatula.

Using a spoon, scoop up the batter and place it on the sheet pan. Depending on the size of your spoon, you will have between 18 and 24 cookies.

Bake for about 10 minutes or until cookies rise and the edges have browned.

Cool the cookies completely before storing.
Check out more recipes and nutrition tips from Cancer Wellness experts.
Share your thoughts
Suggested Articles