Sustenance
Grilled salmon sesame sliders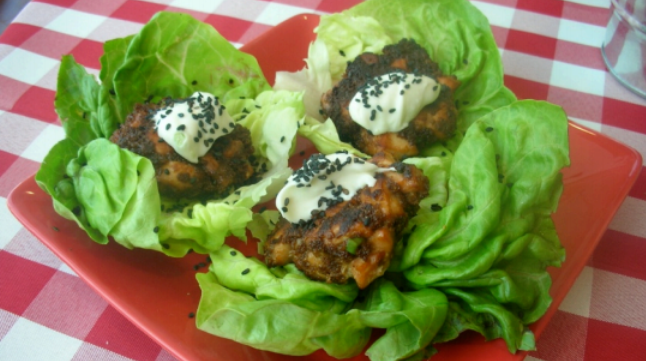 Sustenance
Grilled salmon sesame sliders
Next time you're craving a burger, try this omega-3-rich version by Nancy Waldeck, a chef at Cancer Wellness. Serve on mini hamburger buns or in lettuce cups.
Ingredients:
1 large egg

1 tablespoon soy sauce or tamari

2 teaspoons toasted sesame oil

1 pound skinless salmon fillet, chopped into 1/8-inch pieces

¾ cup whole wheat panko bread crumbs

¼ cup thinly-sliced green onions

2 tablespoons black, tan or white sesame seeds, plus more for garnish

Oil for brushing the grill

Wasabi mayonnaise*

Lettuce cups or whole wheat slider buns
Wasabi mayo instructions:
Buy a tube of wasabi horseradish from the sushi bar at your local grocery store.

Mix a teaspoon of wasabi into ½ cup of olive oil mayonnaise.

Taste and add more wasabi as desired.
Salmon burger instructions:
In a medium bowl, whisk together the egg, soy sauce and sesame oil. Add the salmon, panko, green onions, sesame seeds and mix. Form patties that are 2 inches wide and a ½-inch tall. Cover and chill for at least one hour.

Preheat your oiled grill pan (or a clean, oiled outdoor grill) over medium heat and cook the sliders for about two to three minutes. Turn and cook for an additional two minutes (or until they are cooked as much as you like).

Place each slider in a lettuce cup and top with wasabi mayo. Or, you can place the slider in a grilled whole wheat bun with shredded Napa cabbage. Garnish with sesame seeds.
Check out more recipes and nutrition tips from Cancer Wellness experts.
Share your thoughts
Suggested Articles