How to tell a story through scrapbooking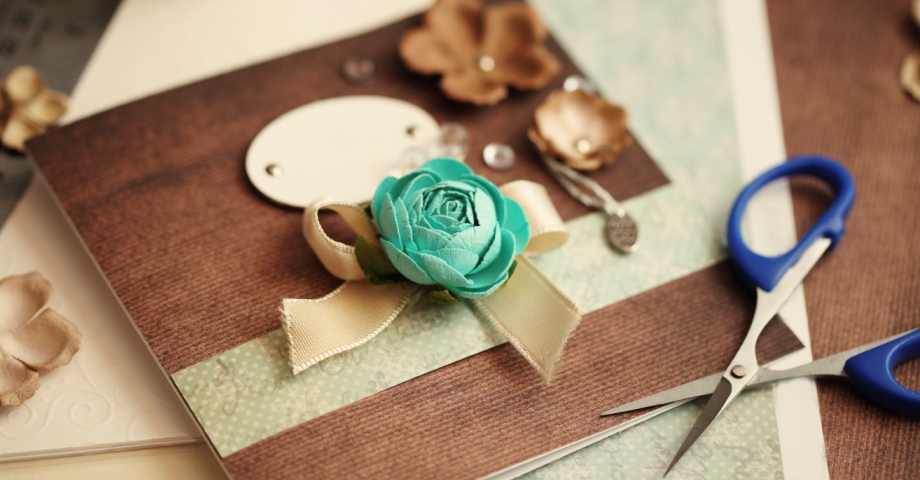 How to tell a story through scrapbooking
Scrapbooking is a fun, creative way to find emotional healing and provide a time of great reflection of your life. It also serves as a way to capture memories, not only for your lifetime, but to pass along to future generations. Scrapbooks are built to survive the test of time.
Positive benefits of scrapbooking
Lori Lindsey, manager of oncology analytics at Piedmont, leads a scrapbooking class at Cancer Wellness at Piedmont, and she consistently hears participants talk about the value of this activity.
"While scrapbooking may be difficult in the very beginning because it brings up so many memories, once participants get past that, they find it to be very soothing. So many speak to the way it allows them to remember their life and their special loved ones," says Lindsey.
She also notes that participants enjoy the creative process. Using glue, cutting out shapes, painting and coloring all have a way of making people feel young again. Sharing the finished product with others is also a rewarding experience.
Making it your own
Scrapbooking is something anyone can do. It is a creative process that really is limitless.
"You can embellish as much as you want or keep it very simple," says Lindsey. "The main goal is to have fun and not compare your book to someone else's. Your work is a reflection of YOU, and others will appreciate that."
Supplies you will need:
Photos

Album

Cardstock: must be acid-free

Adhesives

Embellishments: stickers, stamps, ribbon, gems, flowers, etc.

Pen or fine-tipped markers

Scissors/trimmers
Steps to build your scrapbook:
Select your photos. Go through your photos and separate them by a theme, topic or occasion. This step is a personal preference and it is important because it lays the groundwork for the layout of your album. It is also a good idea to weed out the photos you do not want to use.

Choose three to four pieces of acid-free paper. This paper can be solid or patterned. It serves as background for matting your pictures, journaling text boxes or adding titles. This gives your page a fun, layered effect. Choose colors that complement your photos.

Visualize placement. Begin your first layout by selecting one photo as a focal point. Figure out where you want to position the "supporting" photos. You can also crop your photos to create different sizes and shapes that will fit on your page. Adhere these components to the page. Feel free to adjust things as you go.

Begin the journaling process. Think about the "who, where and when" that describes what is going on in these photos. "Journaling on each page is very important. It really helps capture the memories so the details will not be forgotten years down the road," says Lindsey. "I think handwriting these entries is a nice way to personalize your album as well. Your grandchildren can see your handwriting as they look back upon these special memories."

Add embellishments. "When I started scrapbooking, all I used were stickers. Now I've expanded from that. But it does get very expensive to incorporate a lot of detail, so choose your appliques carefully," adds Lindsey. She also points out that you can apply special keepsakes onto a page, like a baby's hospital bracelet. Choose acid-free covers to protect these keepsake items.
For even more inspiration, Lindsey suggests checking out online resources and local craft stores. Capture your stories and save your memories.
Get inspired by more creative ways to express yourself.
Tags
Suggested Articles