Sustenance
3 ways to preserve summer produce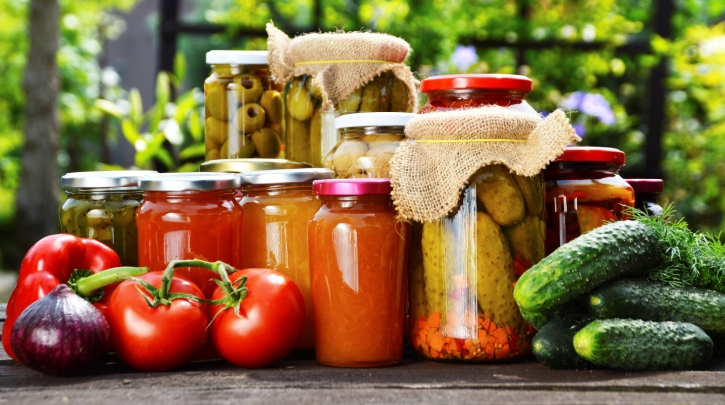 Sustenance
3 ways to preserve summer produce
What to do with all that fresh summer produce from the farmers market? Preserve it! It's easier and faster than you think. Nancy Waldeck, a chef at Cancer Wellness at Piedmont, leads the way.
Why preserve summer crops?
Preserving fruits and vegetables at their peak of ripeness means they'll give you more nutrition and they'll taste better. If you grow the produce yourself or know who farmed it, you'll know where it came from and if it's organic.
"You're also eliminating preservatives and additives, like sugar and salt," says Waldeck.
Plus, if you plan wisely by picking up produce when it's in season, you'll save time and money.
"If you don't have to go to the store to buy that can of tomatoes because you already have it in the pantry, you'll save time," she says. "It's a win all the way around."
1. How to freeze summer produce
Freezing your bounty of summer produce is the easiest way to savor summer goodness well into the fall and winter months. Packaged correctly, frozen fruits and vegetables can last up to a year. One caveat: Once it's frozen, it should stay frozen until you're ready to use it. Allowing produce to thaw increases the chance of it developing bacteria and losing its cell structure. Here's how to get started.
What you'll need:
A sheet pan

Parchment paper

A spatula

A pot

Airtight freezer bags or containers

A freezer
This method works best for:
Fruit and berries, such as blueberries, strawberries, cherries, mangoes and peaches

Hearty vegetables like beans, squash, zucchini, broccoli, corn, asparagus, peppers, peas and Brussels sprouts

Leafy greens, such as kale, spinach and chard
How to freeze fruit:
Rinse the fruit well and pat completely dry to avoid freezer burn.

Prepare the fruit as you normally would: Hull the strawberries, remove the pits from cherries, peel off the skin, etc.

Line a baking sheet with parchment paper and spread the fruit pieces in an even layer.

Freeze until hard. Berries take about 15 to 20 minutes.

Remove fruit from the sheet pan with a spatula and place pre-portioned amounts in double-bagged freezer bags or an airtight container. If you plan to use the berries in smoothies, place the amount you usually use for one smoothie in a bag. If you want to use the berries for a cobbler or pie, bag up the amount you think you'll need.

Label the bags and place them flat in the freezer.
When it thaws, your fruit may look less than its summer best, but it should still taste great. If your dessert requires a pretty presentation, cook the fruit into a sauce first.
How to freeze vegetables:
Rinse the vegetables and pat dry.

Prepare them as you normally would for a meal — chop, peel, etc.

Boil a pot of water on the stove. Drop the vegetables into the water for about a minute, then remove with a slotted spoon and place in an ice water bath to stop the cooking process. Blanching deactivates the enzymes that cause vegetables to get brown and mushy.

Spread an even layer of pieces on a parchment paper-lined baking sheet and freeze until solid, usually a few hours.

Portion the veggies into double-bagged freezer bags or airtight containers, removing as much air as possible to prevent freezer burn.
How to freeze roasted peppers:
Wash, dry and roast a pepper as you normally would.

Remove the skin, place in a plastic bag and roll up like a sausage. Freeze.

When you're ready to use the peppers, take the roll out of the freezer so it can soften slightly, then slice off the amount of pepper you want to use.
How to freeze fresh herbs:
This is a great way to get the kids involved — no knives or heat required!
Wash, dry and chop (if desired) hearty herbs like sage, savory, oregano, thyme and rosemary, and place in the wells of an ice cube tray.

Fill each well with olive oil, grape seed oil (great for cooking at higher temps) or softened butter.

Freeze until solid, then pop out the cubes and store them in an airtight container or doubled-up freezer bags.

When you're ready to use the herbs, melt the oil or butter cube in a sauce pan and you're ready to sauté! (Note: This method won't work well for delicate herbs like basil, parsley or cilantro — use these for the frozen pesto, below, instead.)
How to freeze fresh pesto:
Make a pesto sauce with your favorite herb(s), drizzle a little extra olive oil over the top and place in an airtight container.
Other ways to freeze produce:
Make a fresh tomato sauce, vegetable soup or apple sauce and freeze for later.
2. How to dehydrate summer produce
Save money by dehydrating your summer goodies in the oven — no fancy equipment needed.
"You can dehydrate anything you would buy dried, such as berries or apples," she says. "All you do is cook them on a baking sheet in the oven at a low temperature (about 150 to 200 degrees) for a few hours."
An even easier hack: Dry your fresh herbs in the microwave. Again, this works best with hearty, not delicate, herbs.
Wash and dry herbs well.

Line a microwave-safe plate with a paper towel.

Scatter the herbs on the paper towel and cover with another paper towel.

Microwave herbs until crispy; about 60 to 90 seconds.

Store in your pantry or cabinet in a glass jar with a lid.
3. How to can summer produce
Canning can be intimidating, but once you learn the correct method, it's a fun way to stock your pantry, says Waldeck.
"I think the best way to learn about canning is to take a class," she says. "Canning makes everyone nervous at first, but a class can help."
Waldeck enjoys canning with her friends to make the work lighter.
"There are six of us who have 'canning summits' five to six times a year, depending on what's in season," she says. "Once you become more savvy, you can start adding seasoning to the things you can, such as garlic and peppers. Canning offers the opportunity for friendship and you get something really healthy out of it."
To learn more about canning, Waldeck recommends visiting the National Center for Home Food Preservation's website.
Check out more recipes and nutrition tips from Cancer Wellness experts.
Tags
Share your thoughts
Suggested Articles