Sustenance
Lemon trout with parmesan orzo, greens & celery salad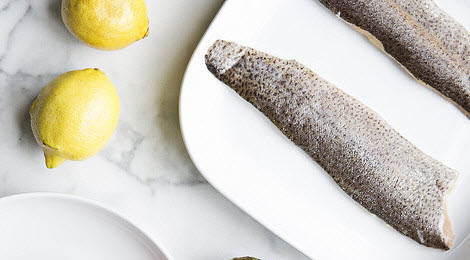 Sustenance
Lemon trout with parmesan orzo, greens & celery salad
Piedmont partnered with Garnish & Gather to share healthy recipes you can feel good about eating.
Serves 2
Ingredients:
4 tablespoons olive oil, divided

Salt and pepper to taste

¾ cup orzo

1 bouillon cube

1.5 cups water

2 trout filets

1 lemon

½ teaspoon lemon pepper

G&G orzo starter (2 tablespoons shallots, 1 clove garlic, ¼ teaspoon dried thyme)

2 tablespoons pine nuts

G&G dressing starter (1 tablespoon champagne vinegar, 1 teaspoon Dijon mustard, 1 teaspoon honey)

G&G dressing spice (¼ teaspoon dried thyme, ¼ teaspoon smoked paprika)

1.5 cups greens

1/3 cup celery

1/3 cup radish

¼ cup parmesan cheese

1 tablespoon butter (optional)
Instructions:
Preheat oven to 400 degrees.

Heat 1 tablespoon olive oil in a small pot over medium-high heat.

Grease or line a baking sheet with foil (optional).

Add G&G orzo starter to saucepan and cook for 2 to 3 minutes.

Add bouillon cube, 1.5 cups of water, salt and pepper to taste, and bring to a boil. Scrape up any brown bits on the bottom of the pan as you go.

Trim greens.

Thinly slice celery.

Cut radishes in half then thinly slice into half circles.

Add orzo to boiling broth and return to boil. Reduce to a simmer and cook for 8 to 12 minutes, stirring occasionally until water is absorbed.

Place fish filets on baking sheet and pat dry.

Sprinkle both sides with 1 tablespoon of olive oil, salt and lemon pepper.

Cut lemon in half and squeeze half over the fish.

Bake fish skin-side down for 8 to 10 minutes, until flaky and tender.

In a large bowl, combine G&G dressing starter, 2 tablespoons of olive oil, G&G dressing spice, pine nuts, salt and pepper.

Add greens, celery and radish; toss to coat.

When orzo is done, remove from heat, drain excess water, add parmesan and stir to combine.

Juice remaining lemon half.

Melt 1 tablespoon of butter and lemon juice in a saucepot or in microwave, and drizzle over the fish.

Place orzo on one side of the plate with the fish partially on top. Serve the salad on the side or partially on top of the fish.
Check out more recipes and nutrition tips from Cancer Wellness experts.
Share your thoughts
Suggested Articles