Sustenance
Spice-rubbed chicken with wilted kale and mushroom salad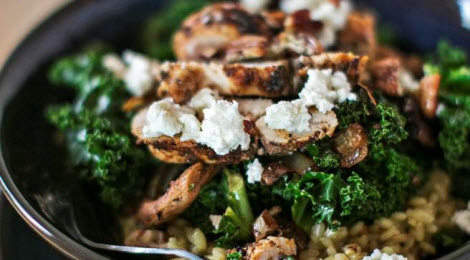 Sustenance
Spice-rubbed chicken with wilted kale and mushroom salad
Piedmont partnered with Garnish & Gather to share healthy recipes you can feel good about eating.
Serves 2
Ingredients:
2 chicken breasts

1 tablespoon olive oil, divided

Salt and pepper

1 tablespoon butter or olive oil

G&G chicken spice (1/2 tablespoon garlic, ½ tablespoon smoked paprika, ½ tablespoon cumin, ½ tablespoon oregano, ½ tablespoon thyme, ½ teaspoon mustard seed, ½ teaspoon cinnamon)

2 tablespoons pecans

2 cups mushrooms

G&G salad starter (1/2 cup chopped onion and 2 cloves of minced garlic)

1 bunch of kale

½ tablespoon apple cider vinegar

¼ teaspoon red pepper flakes

3 ounces goat cheese
Instructions:
In a large sauté pan, heat ½ tablespoon oil over medium heat.

Add pecans and toast for four to five minutes, until fragrant.

Season chicken with salt and pepper, then coat with G&G chicken spice.

Roughly chop mushrooms.

Remove pecans from pan and set aside.

In the same pan used for the nuts, heat ½ tablespoon oil over medium heat.

Add chicken and cook for five to seven minutes per side, until cooked through.

Remove large stems from kale and chop leaves.

Remove chicken from pan and keep warm.

In the same pan used for the chicken, heat 1 tablespoon of butter or olive oil over medium-high heat.

Add mushrooms and sauté for three to four minutes, until golden.

Turn mushrooms and add G&G salad starter.

Cook five to six minutes, stirring occasionally.

Reduce heat to medium and add kale, apple cider vinegar, red pepper flakes, salt and pepper, scraping up browned bits.

Cook four to six minutes, until kale is emerald green.

Cut chicken into strips.

Scoop kale mixture onto plate and top with chicken strips.

Garnish with crumbled goat cheese and toasted pecans.
Check out more recipes and nutrition tips from Cancer Wellness experts.
Share your thoughts
Suggested Articles