Sustenance
Citrus juniper chicken with roasted turnips and greens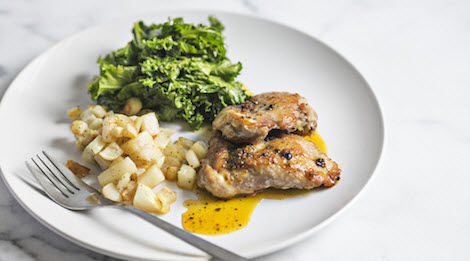 Sustenance
Citrus juniper chicken with roasted turnips and greens
Piedmont partnered with Garnish & Gather to share healthy recipes you can feel good about eating.
Serves 2
Ingredients:
2 chicken breast halves

1/3 cup orange marmalade

1 teaspoon crushed juniper berries

3 tablespoons white wine vinegar

2 cups turnips with greens

1 tablespoon honey

1 clove garlic

3 tablespoons olive oil, divided

Salt and pepper
Instructions:
Preheat oven to 375 degrees.

Remove greens from turnips. Chop greens, then set aside.

Peel and dice turnips.

On a sheet pan, combine turnips with 1 tablespoon of oil, plus salt and pepper.

Roast turnips in the oven for 12 to 15 minutes, until brown.

Heat 1 tablespoon oil in an ovenproof sauté pan over medium-high heat.

Season chicken with salt and pepper on both sides.

Add chicken and cook for three to four minutes per side, until brown.

Transfer chicken to oven for eight to 10 minutes until cooked through.

Remove turnips from oven and pour honey over the top.

Return turnips to oven and cook for three to four minutes.

In a sauté pan, heat 1 tablespoon of oil over medium-high heat.

Add garlic and sauté for 30 seconds until fragrant.

Add turnip greens and sauté for three to four minutes until wilted.

Remove chicken from pan and set aside. Add orange marmalade, vinegar, juniper berries, salt and pepper to pan.

Warm over medium heat for two to three minutes, or until thickened, stirring occasionally.

Serve chicken topped with citrus juniper sauce, with turnips and greens on the side.
Check out more recipes and nutrition tips from Cancer Wellness experts.
Share your thoughts
Suggested Articles