Sustenance
Chicken chili with sweet potatoes and cheddar cheese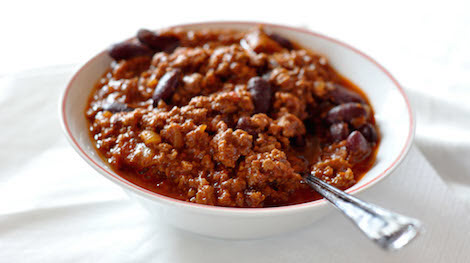 Sustenance
Chicken chili with sweet potatoes and cheddar cheese
Piedmont partnered with Garnish & Gatherto share healthy recipes you can feel good about eating. This chicken chili is full of good-for-you ingredients and perfect for a cozy night in.
Serves 4
Ingredients:
2 tablespoons olive oil

1 pound chicken breasts

1 cup of chopped onion

4 cloves of garlic, diced

2 cups diced peppers

2 cups black beans

4 cups diced sweet potatoes

4 cups diced tomatoes

2 tablespoons tomato paste

1 to 1.5 cups water

1 tablespoon coffee

2 tablespoons chili powder

1 tablespoon paprika

2 tablespoons cumin

1 tablespoon oregano

½ tablespoon cayenne pepper

2/3 cup cheddar cheese, shredded

1 cup Greek yogurt
Instructions:
Heat 2 tablespoons of oil in a large, heavy-bottomed pot. Season the chicken with salt and pepper on both sides, and add to the pot. Brown for three to four minutes per side. Add the onion, garlic and pepper, then cook for three to four minutes.

Rinse and drain the beans. Dice the sweet potatoes.

Remove the chicken from the pot and set aside. Add the diced tomatoes and tomato paste to the pot, scraping up any brown bits from the bottom of the pot. Add beans, sweet potatoes and spices, plus 1 to 1.5 cups of water, depending on desired consistency. Cut chicken into bite-sized pieces and return to the pot. Cover and simmer over medium-low heat for 20 to 25 minutes.

Scoop chili into a bowl and top with cheddar cheese and a dollop of Greek yogurt.
Check out more recipes and nutrition tips from Cancer Wellness experts.
Share your thoughts
Suggested Articles