Breast implants or not, mammograms are important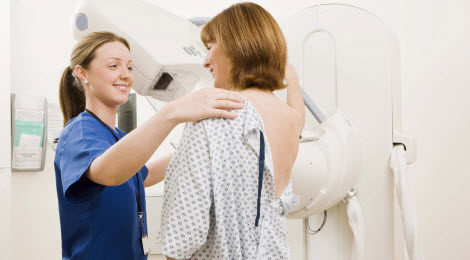 Breast implants or not, mammograms are important
Are mammogram guidelines different for women with breast implants? While there is a chance of a breast implant rupturing during a mammogram, studies show mammograms are still an effective way to screen for breast cancer in women with breast implants.
"When we screen women with breast augmentation at Piedmont, we do take special precautions," says Beverly Copelan, RT (R)(M) manager of Doris Shaheen Breast Health Center at Piedmont. "First, we take four images with the implant in view to check the integrity of the implant. Then, we move the implants back towards the chest wall to get a better picture of the anterior breast tissue. Although there is always a chance of rupture, the risk is very low."
Implant displacement views
In women with breast implants, the implant is moved back towards the chest wall and the breast tissue is pulled forward and around it so the tissue can be seen in the mammogram. This process, which is performed by a trained technologist, may be uncomfortable, but it is the best way to expose as much breast tissue as possible.
Copelan warns that some tissue can still be missed because it is hidden behind the implant. She says women who have implants inserted behind the muscle have an advantage of having more tissue exposed for the mammogram.
Mammogram guidelines
Breast cancer screening guidelines are the same for women with or without breast implants. The American Cancer Society recommends a woman receive a yearly mammogram starting at age 40.
It is important to tell the technician before your mammogram if you have implants.
"Women should not rely on mammograms alone. Routine clinical breast exams and monthly breast self-exams are equally important," Copelan says.
Additional screening options
In some cases, if a woman's breasts are too dense, the exam itself is too uncomfortable or the implants are hard to move aside, a MRI or ultrasound may be recommended for further imaging. These tools can be helpful in revealing more tissue volume.
With or without breast implants, mammograms continue to be a valuable tool in the detection of breast cancer.
Learn more about breast cancer screenings.
Tags
Suggested Articles