How to feel more confident during cancer treatment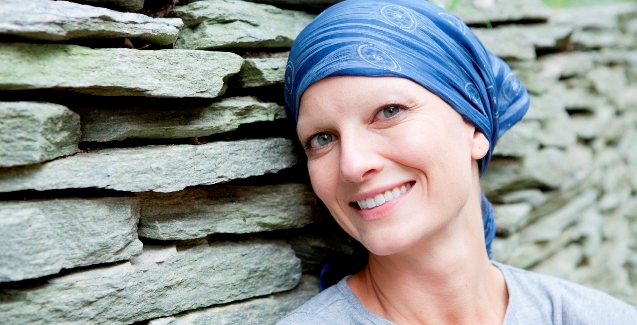 How to feel more confident during cancer treatment
Cancer treatment can affect your appearance, self-esteem and confidence. While there is no one-size-fits-all standard for beauty, the tips below can help you feel more like yourself during treatment.
"Forget about, 'Why me?' Instead, focus on, 'I have cancer, let me get through it and do the best I can,'" says Cookie Aftergut, founder of Chemoflage, Inc.
Tips to feel more confident during cancer treatment
Aftergut, a cancer survivor herself, suggests the following advice to women who are undergoing cancer treatment. Follow the tips that work for you.
Apply eyeliner around your lash line to add definition to your eyes if your lashes have fallen out.

Apply lip balm frequently because chemotherapy can cause your lips to become dry.

Celebrate your strength. "When you go through cancer treatment, you learn so much about yourself. I know I am a very strong person today. I thought I was strong before cancer, but I am very strong now and I live every day to the fullest."

Do your best to have a positive outlook. "I always joke that the birds did not have my address for 62 years of my life. I never heard them. Now when I go outside, I hear a symphony," says Aftergut.

Find a support group. "There is nothing quite like the support you receive from someone who is experiencing or has experienced what you are going through," she says.

Get dressed each day. Aftergut says it may be tempting to wear your pajamas all day, but putting on an outfit and accessories, particularly colorful items, can lift your mood.

If your eyebrows have fallen out as a result of chemotherapy, try defining your brow area with a brow pencil. Visit a cosmetics counter at your local department store for a tutorial.

If you know you are going to lose your hair, considering having a shaving party. "This is something you can control," says Aftergut. "You don't have to wait for your hair to fall out."

Let go of the little things that cause stress. "I don't let the little things that used to bug me bother me anymore. They are not important."

Swipe on some blush or bright lipstick to wake up your complexion.

Wear a wig if you choose, but also know you do not have to wear one. Many women opt not to wear a wig after their hair has fallen out, says Aftergut. Do whatever makes you feel most comfortable.
Remember, your family and friends love you for YOU. What is most beautiful about you is your personality and spirit.
Learn more ways to feel better during and after cancer treatment.
Tags
Suggested Articles