Support
Survivorship: Life after cancer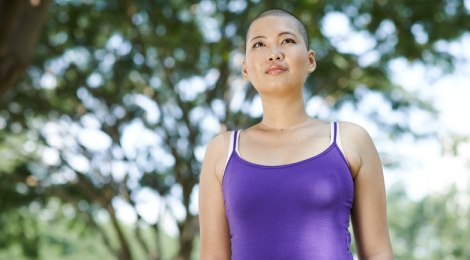 Support
Survivorship: Life after cancer
For many people, life after cancer treatment does not instantly return to normal.
"Many people say that they felt they had a lot of support during cancer treatment, but once treatment ended, it was hard to make a transition and reintegrate back to their 'normal' life," says Lauren Garvey, MS, CRC, NCC, a facilitator at Cancer Wellness at Piedmont. "Many say it can be like entering a whole new world."
Garvey shares what many people face after treatment and her tips for thriving in survivorship.
Who is a cancer survivor?
You do not have to be cancer-free or in remission to be considered a cancer survivor. Anyone who has received a cancer diagnosis — regardless of what stage they are in the cancer journey — is a survivor from day one.
"Cancer survivorship is a way of living," says Garvey.
Life after treatment
It is okay to feel lost after your treatment is over.
"Oftentimes people come to Cancer Wellness and are asking the question 'what now?' They have spent a large amount of time at appointments, treatments, scans, and traveling to and from the offices of medical professionals who are keeping a close eye on them on a regular basis. Once their physicians say, 'Okay great, see you in three or six months,' many people feel lost about how to proceed from there," she explains.
Letting go of the "shoulds"
Garvey emphasizes the importance of letting go of how you think you should feel when treatment is over. There is no one right reaction.
"I frequently hear that people feel a lot of 'shoulds,' such as, 'I should be happy, I should be relieved, I should be excited,'" she explains.
Your family, friends, and colleagues may also expect you to bounce back at home, work and in your social life after treatment ends.
"In reality, the transition can be challenging," she says.
Fear of recurrence
Anxiety and fear are another common part of cancer survivorship.
"We often discuss to the term 'scanxiety,' which refers to the feelings associated with upcoming diagnostic tests," says Garvey. "Many cancer survivors relate to one another about living with the fear of disease progression or recurrence."
Self-expression after cancer
If you feel fearful or not like your old self, it is okay to express your feelings. Talk to a loved one, support group or counselor about your concerns.
"Emotional expression has been shown to impact not only our minds, but our bodies on a cellular level," she says. "By expressing our thoughts, such as our fear, sadness, joy and hope for the future, we are causing not just psychological, but also physiological changes in our bodies that promote healing and wellness."
Community in survivorship
A sad reality for many cancer survivors is feelings of isolation.
"Cancer can be incredibly isolating. Many of the participants I have spoken with have lost touch and connection with some people who were in their lives prior to their diagnosis, or are simply less able to relate to them," says Garvey.
If this is true in your life, a survivors' support group, such as the Survivors Series group at Cancer Wellness, can be a wonderful way to connect with people who understand what you are going through.
"Our survivors have a unique bond. Even sharing a meal as we often do before we begin our formal support group meetings, survivors have a place to connect with others who are able to understand what they have been through and continue to live with. They 'get it,'" says Garvey.
Thriving in survivorship
While your life may not return to exactly the way it was before cancer, it is possible to thrive in this new stage of your life.
"We are shifting the dialogue about cancer; a diagnosis does not dictate your ability to live a full life," says Garvey. "Cancer is not the end of any story. There are millions of cancer survivors. They are finding their new dream job, meeting the love of their life, starting a family and reaching their goals, regardless of whether or not they are cancer-free. Many people I meet who have received cancer diagnosis and treatment are not just living with the disease, but beyond it."
Learn more ways to thrive before, during and after cancer treatment.
Share your thoughts
Suggested Articles