Sustenance
How to make leafy greens taste delicious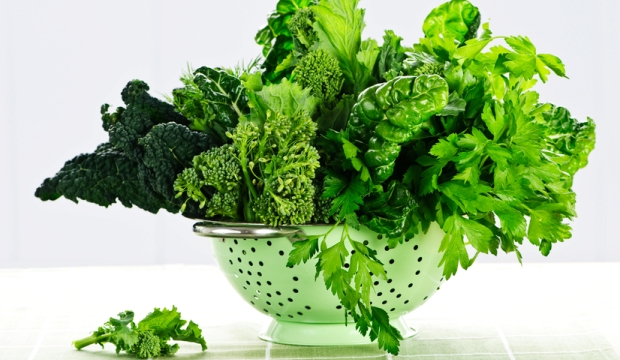 Sustenance
How to make leafy greens taste delicious
Dark, leafy greens like kale, spinach and collards get a bad rap because "some are a little bitter, have strong flavors or are fibrous, and mostly, people don't cook them well," says Nancy Waldeck, a chef at Cancer Wellness.
Learning how to prepare leafy greens so they are appetizing is worth the effort: Leafy greens are excellent sources of vitamins and minerals like vitamin C, iron and calcium. They also contain carotenoids, folate, chlorophyll, and fiber, which are particularly important if you are a cancer survivor.
"These compounds have been shown to help stop or slow the growth of some forms of cancer," says Waldeck.
The best way to prepare greens
If you're a leafy greens newbie, Waldeck suggests starting with spinach, though "any green that is cooked is going to tone down the strong or bitter flavor," she adds.
Waldeck recommends chopping or shredding greens before sautéing or stir-frying.
"If you eliminate hard ribs in greens like kale, chard and collards, it will make them so much more palatable," she says.
Think outside the salad plate
While greens make for nutritious salads, they can also be incorporated into many more recipes.
"It's so easy to throw a handful of spinach into a smoothie and you can't even taste the results," says Waldeck. "Shredded greens keep well in the fridge for three to four days, allowing you to easily put them in any kind of soup, sauce or stew you are preparing."
For a quick, simple side dish, try Waldeck's recipe below.
Red-hot kale ribbons
Ingredients:
2 bunches kale, chard or collard greens

2 tablespoons olive or canola oil

Zest and juice of 2 lemons

Sriracha or hot sauce (or Worcestershire if you're not a fan of the hot stuff)

Sea salt and black pepper (to taste)
Step one
Cut the stems out of the middle of the greens. Cut leaves into thin ribbons.
Step two
Heat the oil in a sauté pan and cook the greens over medium-high heat until just tender.
Step three
Remove from the heat; add the lemon juice, zest, Sriracha, salt and pepper.
For more recipes and nutrition tips, visit our Sustenance page.
Tags
Share your thoughts
Suggested Articles