Peace
Wisdom and strength from your dreams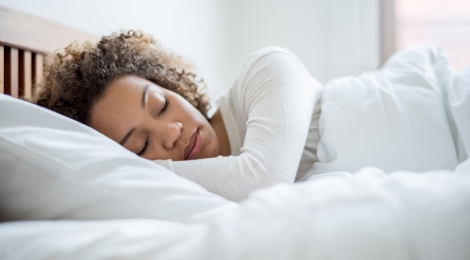 Peace
Wisdom and strength from your dreams
After a cancer diagnosis, both patients and caregivers often report an increase in vivid dreams and nightmares, says Tallulah Lyons, M.Ed., a facilitator at Cancer Wellness. Lyons leads a dream group at Cancer Wellness where participants learn basic techniques for understanding the symbolic language of dreams and use guided imagery to expand, transform, and integrate the energies of their dreams.
"All dreams and nightmares offer insight and energy for personal growth and healing," she says. "They put the dreamer in touch with whatever is out of balance in their lives and also show them their deepest strengths and hopes, offering possibilities for moving through the disease."
Every dream can help you to:
Deepen your sense of relationship with yourself, others and the source of the dream.

Find a sense of connection and wholeness.

Make creative responses in disturbing situations and relationships.

Respond with expanded consciousness.

Understand and deal with conflicting feelings and moods.
How your waking hours influence your dreams
Dreams are strongly influenced by what is going on in your daily life and your intuition.
"Dreams are like spotlights that put us touch with areas of our lives that need special tending," she says. "There is a process of deep reasoning that goes on in the unconscious mind throughout the day and night. This reasoning then bubbles up into our sleeping dreams. Dreams are related to our intuition."
What happens in a dream group session
Dream work allows participants to reflect on their dreams and turn disturbing images into positive ones.
In her classes, Lyons asks one participant to share a dream he or she had in the last week. She then walks the entire class through that dream using guided imagery, encouraging them to imagine that the dream was their dream. Participants then ask themselves, "'What attitudes, thought patterns, behaviors and beliefs are being spotlighted in my dream?"
She emphasizes that her class is not about dream interpretation.
"It's more like dream appreciation," says Lyons. "Our dreams come from a deep layer of the psyche. That layer is dealing with emotions and associations. We can look at our dreams as a gift that allows us to move into a more expanded way of living."
Physical benefits of dream work
Guided imagery, like the kind Lyons uses in her dream group, has physical health benefits, according to several studies.
"Research demonstrates that the practice of guided imagery can help bring about a sense of well-being, meaning and hope, as well as help alleviate side effects of treatment, including pain, nausea, and fatigue," says Lyons. "Because research shows that guided imagery can enhance the functioning of the immune system, guided imagery with personal healing dream images can be a particularly effective way to boost the body's innate healing systems."
Mental and emotional benefits of dream work
Dream work can also have mental and emotional benefits. A survey of cancer survivors and caregivers who participated in dream work found that participants experienced:
Decreased feelings of anxiety and stress

Increased feelings of confidence and control over life and health issues

Increased feelings of hope

Increased sense of connection with others

Increased sense of connection to inner resources (intuition)

Increased sense of quality of life, particularly emotional, social, and spiritual

Increased understanding of healing at multiple levels

Increased understanding of how to live fully in the present moment, despite cancer
What we can learn from our dreams
"Our dreams come in service of healing and wholeness," says Lyons. "Many cancer survivors say they had knowledge of their illness through their dreams, long before they went to a doctor and received a diagnosis."
Because dreams speak the language of symbol and metaphor, most dreams do not depict the cancer situation in a literal way, but instead refer to the cancer in symbolic ways. However, before and after diagnosis and during treatment, dreams often offer guidance for making decisions about choice of doctors, treatment options, and lifestyle changes.
Because every dream holds multiple meanings, every dream offers potential for healing on many levels: mental, emotional, spiritual, and physical. The dreams of people facing cancer tend to emphasize the need for emotional, relational, and spiritual resolutions.
When reflecting on your dream, look at the images, people, emotions and events that were present. Ask yourself:
What does this dream offer?

What in my life is like the image, character or emotions in my dream?

Where are the gifts this dream wants to offer to me?

What are the opportunities in my life for growth and healing?
What we can learn from our nightmares
Nightmares in particular are often an urgent plea for transformation. While they may include disturbing images, examining your nightmares can have a positive effect because there is much to learn from them.
"Dreams are a reflection of where we are in our journey, but also invitations into how to deal with it better," says Lyons. "A nightmare may scare you so much you are willing to address the issue it uncovers."
How to remember and record your dreams
Lyons recommends keeping a journal by your bedside. When you wake up, jot down everything you can remember about your dream. Even a word or a quick sketch in the middle of the night can trigger memories of the dream later.
If you struggle to remember your dreams, consider finding a dream partner or group.
"Reinforcement through sharing has a significant impact on dream recall," she says. "It is as if dreams get excited when they know they are going to a party. Write in your journal each morning, even if you don't record a dream. Write about your feelings and hopes for the day. When my class participants do this, they are often able to start recalling their dreams more easily."
To learn more about other Cancer Wellness programs, check out our monthly calendar of in-person classes.
Tags
Share your thoughts
Suggested Articles