Sustenance
Stock your pantry: 10 must-haves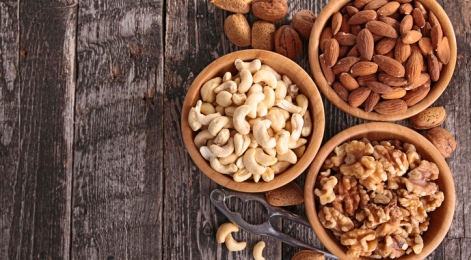 Sustenance
Stock your pantry: 10 must-haves
Make weeknight dinners and meal prep easier by stocking your pantry with healthy meal staples. Nancy Waldeck, a chef at Cancer Wellness, shares what she keeps in her pantry, plus cooking tips and two quick recipes that incorporate some of her favorite ingredients.
Canned beans. Add protein-rich black beans, garbanzo beans, navy beans and kidney beans to soups or chili, toss them on salads, or puree them for hummus and dips.

Dried fruit. Make your own healthy trail mix or snack on dried fruit on the go. Keep portion sizes small, as dried fruit can be higher in calories and sugar.

Fire roasted tomatoes. Ideal for making a quick pasta sauce, double the recipe and put half in the freezer. Try them in Waldeck's "Fast and Flavorful Tomato Sauce" recipe below.

Hot sauce, such as Sriracha. It adds a pop of spice to meals without excess fat and calories.

Mustards, oils and vinegars. Waldeck keeps a variety in her pantry to add a dash of flavor to sauces and dressings.

Nuts. Almonds, walnuts, pecans, cashews and peanuts are great for trail mix, a variety of recipes and on their own.

Rice and ancient grains. Try quinoa, amaranth, barley and brown rice.

Sardines and anchovies. Ideal for adding savory, salty flavor to your recipes.

Spices. Add zest to your meals without adding fat or calories.

Stone-ground oatmeal. Use it in overnight oats, pancakes and desserts.
Recipe: Fast and flavorful tomato sauce
Ingredients:
2 tablespoons extra virgin olive oil

1 cup finely chopped yellow onion

3 large garlic cloves, grated or minced

1 tablespoon sea salt

1 28-ounce can fire roasted tomatoes

1 bouquet garni (made with any fresh herbs you have on hand, tied with kitchen twine) or 1 tablespoon Italian seasoning

Freshly cracked black pepper to taste
Instructions:
In a large saucepan over medium heat, sauté the onions in the oil until they soften, about five minutes.

Add the garlic and salt, stir for an additional minute.

Add the entire can of tomatoes and the bouquet garni.

Simmer over medium heat for about 20 to 30 minutes longer.

Give it a big grind of black pepper and serve with your favorite whole wheat pasta, quinoa or protein.
Recipe: Date nut bites
Ingredients:
½ cup toasted almonds

½ cup toasted walnuts

½ cup toasted pecans

16 pitted dates

3 tablespoons pomegranate molasses (or honey)

Zest of 2 oranges

½ teaspoon cardamom

½ teaspoon cinnamon

1/8 teaspoon sea salt
Instructions:
Place all the ingredients in a food processor and pulse until the mixture is completely chopped and forms a thick paste.

Place in a bowl and refrigerate for at least one hour, up to overnight.

Remove from the fridge and with a spoon, make 1-inch balls by carefully pressing the mixture together.

Serve in mini cupcake liners. These will keep in the fridge for a week in an airtight container.
For more tips to simply meal planning, check out Waldeck's freezer must-haves.
Share your thoughts
Suggested Articles