Movement
The difference between tai chi and qi gong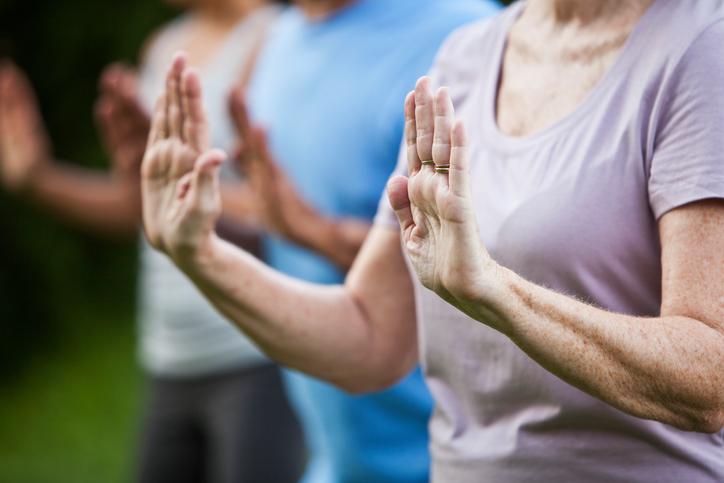 Movement
The difference between tai chi and qi gong
Tai chi and qi gong are mind-body practices that are beneficial for both cancer survivors and caregivers.
Cate Morrill, CTCI, a tai chi and qi gong instructor at Cancer Wellness, shares a brief overview of the difference between the two practices.
What is tai chi?
"Tai chi is a system of exercise and movement developed long ago as a martial or training art that is now widely used for health and wellness," explains Morrill. "It can be practiced by almost anyone and in almost any situation."
Often known as "moving meditation," tai chi is a series of slow, gentle motions that are patterned after movements in nature. Most of the work is performed while standing and taking small steps, though it can be modified for seated practitioners as well.
"Through continued and dedicated practice, tai chi offers many health benefits to the body, mind and spirit," she says. "In many cases, participants will see benefits after just a few lessons or classes."
What is qi gong?
Pronounced "chi gong," qi gong is an internal process that has external movements. Qi means "life force," the energy that powers our body and spirit. Gong is the term meaning work or gather. Qi Gong together means a form of movement and mind using intention and mindfulness to guide qi to make qi work.
"Qi gong is often referred to as the 'internal' portion of tai chi," explains Morrill. "Its physical expression is characterized by stationary movements that are repeated a certain number of times, such as three, six or nine times."
"Qi, then, is the type of energy that makes us feel alive and helps us experience emotions," she says. "Traditional qi gong theory says that we can focus on a feeling, emotion, part of the body, concept or goal and that our qi, or energy, goes where our mind sends it."
Practicing the same move over and over stimulates muscle, bone, heart, respiration and other functions in the body as shown through qi gong theory.
What is the difference between tai chi and qi gong?
"Qi gong can be thought of as a movement you do for a certain situation, as opposed to tai chi form, which is a series of movements that work on the entire body in a flowing sequence," says Morrill. "For example, qi gong can be one move that helps open the lungs. The practitioner will repeat that specific move until he or she has felt the benefit begin to emerge."
Tai chi classes always include the concepts and theories, and usually movements of qi gong, but a qi gong practice won't necessarily include tai chi. Morrill uses this analogy to explain the difference between the two practices:
"Think of a weightlifter who focuses on building his or her biceps with biceps curls. The weightlifter repeats those curls to build the muscle, focusing on that muscle only. In the same way, qi gong focuses on a particular issue in the mind, body or spirit," she says. "Tai chi, on the other hand, has more similarities to a full-body weightlifting routine."
Do you have to be in great shape to start tai chi or qi gong?
"Often people ask if they must be in great shape, strong, balanced or flexible to begin these practices," says Morrill. "The answer is absolutely not. It is the goal of these practices to provide that strength, flexibility and balance."
Tai chi and qi gong are adaptable for nearly all fitness levels, do not require equipment and can be performed anywhere you feel comfortable moving. You can start adapted, or modified, tai chi and qi gong at almost any level of movement ability, whether it's from the bed, chair, standing with support or standing freely.
"It's especially beneficial for cancer survivors because it enhances the immune system while relieving physical pain, anxiety and stress," she says.
Learn more about the health benefits of tai chi and qi gong.
Share your thoughts
Suggested Articles