At-home aromatherapy for cancer survivors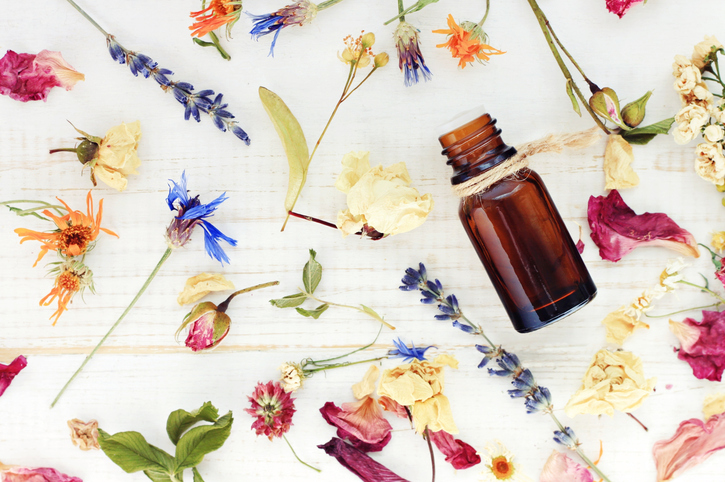 At-home aromatherapy for cancer survivors
Aromatherapy with essential oils has many health benefits, particularly for cancer survivors. Mary Beth Kealy, MSN, APNC, CCIT, E-RYT, a class facilitator and yoga instructor at Cancer Wellness, shares how to make your own essential oil blends to use at home.
"Aromatherapy is beneficial to everyone because it stimulates many positive physical and emotional responses," says Kealy. "For cancer survivors, aromatherapy is wonderful for lymphatic system drainage and for boosting the immune system. It can also help to reduce nausea, relieve headaches and soothe fatigue. Essential oils have been used for thousands of years for antiviral, antibacterial and antimicrobial purposes."
How to create essential oil blends at home
Start by picking up a few of your favorite essential oils. Kealy uses the following in her essential oil classes:
Lavender. "Lavender is one of the most popular essential oils," says Kealy. "The scent is so restful and relaxing. It also has strong antibacterial properties and is very gentle on the skin, so it's an ideal essential oil for those who are new to aromatherapy."

Lemongrass. "It's very soothing, but also stimulating," she says. Lemongrass is helpful for a mid-day pick-me-up.

Peppermint. "Many cancer survivors who are undergoing chemotherapy experience nausea, so peppermint is a good essential oil to add to your blends because it helps decrease nausea," she says.
Experiment by adding a drop or two of each oil to a diffuser, cloth or carrier oil (such as grapeseed or almond oil). If you have a scent preference, you may choose to add two drops of one oil and one drop each of additional oils. Test out different combinations to see what you like best.
How to choose the right essential oil
It's important to choose the right product to get the most benefits.
"Scented candles or lotions tend to have synthetic fragrances, which smell nice, but don't give us the benefits we want," explains Kealy.
Essential oils are created from plants, including flowers, herbs and trees, and shouldn't have any filler ingredients.
Here's what to look for:
A label that reads, "100 percent" essential oil. For example, if you choose lemongrass oil, the label should say, "100 percent lemongrass essential oil." It shouldn't be a blend or diluted in any way.

A small, deep brown or dark blue glass bottle. Dark glass protects the oil from UV light that can deteriorate the product.

Oil that is thick and concentrated.
How to use essential oil blends
Kealy recommends using aromatherapy in a variety of ways:
Apply a few drops of your favorite oil to a cloth and wave it in front of your nose.

Apply a few drops of oil to a washcloth and place it in the bottom of your shower for steam aromatherapy.

Add a drop or two to a few teaspoons of grapeseed or almond oil. Apply to the skin as a moisturizer or for a massage.

Run a cool mist diffuser overnight with peppermint or eucalyptus oil if you suffer from allergies, a cold or a sinus infection.

Use a few drops of your favorite oils or blends in your bath.
Aromatherapy cautions if you are undergoing cancer treatment
While aromatherapy is generally safe, there are a few precautions to consider if you are currently receiving cancer treatment. Kealy notes that some oils can cause skin sensitivity and/or increase light sensitivity, especially if you are receiving radiation treatment. Talk to your doctor before applying essential oils to your skin.
"If you are undergoing chemotherapy, we recommend avoiding essential oils for a few days before chemo and for 10 days after treatment," she adds.
Whether you want to perk up, relax or de-stress, aromatherapy can be used in many ways. Learn more about the health benefits of essential oils.
Tags
Suggested Articles