Getting active again after breast cancer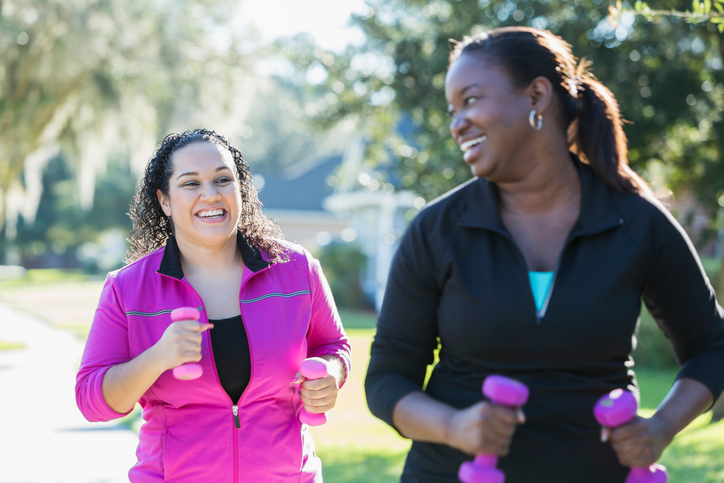 Getting active again after breast cancer
Nidhi Verma's breast cancer treatment plan involved 16 rounds of chemotherapy, 36 rounds of radiation and surgery. After she went through extensive lymph node removal surgery, moving her arms was still painful four weeks later and she learned she was at a high risk of developing lymphedema.
As she moved to the radiation portion of her treatment, the radiation oncologist noticed her inability to lift and stretch her arms when taking radiation measurements. Her physician recommended Piedmont's breast cancer rehabilitation program with Gwen Kirby, PT, CLT-LANA, a physical therapist at Piedmont who specializes in treating lymphedema and working with breast cancer survivors.
"I saw improvements from physical therapy in a matter of weeks, both in my physical fitness and emotional well-being," says Verma. "Going through breast cancer rehabilitation during radiation allowed me to control the swelling in my affected arm, regain my range of motion and learn about lymphedema risks to be proactive in preventing its recurrence."
Kirby designed a custom care plan for Verma, which involved range-of-motion exercises, scar tissue work and strength building. She also performed manual lymph drainage to address the swelling.
Verma says this treatment was life-changing.
"Breast cancer rehabilitation has enabled me to cope and recover from cancer, build strength and endurance, and thrive in the 'new normal' world of a cancer survivor," she says.
Physical activity after breast cancer
Breast cancer rehabilitation can help you get back to the physical activities you enjoy, such as gardening, yoga, tennis and playing with your children or grandchildren.
"After they have completed treatment, women who have had breast cancer should be able to return to their prior level of activity without difficulty," says Kirby. "However, many women don't know what activities are okay to do after surgery and are concerned about injury and lymphedema."
She adds, "We also know that people who exercise have a reduced risk of cancer recurrence, so we want women to be out there doing what they love and not be afraid to do it."
What to expect in breast cancer rehabilitation
The breast cancer rehabilitation team at Piedmont includes physical therapists who are specially trained to work with cancer survivors and treat lymphedema.
Breast cancer rehabilitation addresses:
Endurance

Individual fitness and activity plans

Pain and hypersensitivity to the touch

Posture

Scar tissue

Strength

Swelling and lymphedema

Tightness and decreased mobility
Who is a candidate for breast cancer rehabilitation?
You may be a candidate for the program if you have had one or more of the following procedures:
Axillary dissection

Breast reconstruction

Lumpectomy

Mastectomy

Radiation

Sentinel node biopsy
A physician's referral is required, so talk to your surgeon or oncologist if you are interested in breast cancer rehabilitation.
"The neat thing about our breast cancer rehabilitation program is that we intersect with all Piedmont programs," says Kirby. "Women may come to us initially and feel like they aren't quite ready to return to their neighborhood yoga class, so we may send them over to Cancer Wellness for tai chi or gentle yoga, or to the PINK at Piedmont program. We give them what they need to be successful in survivorship."
Learn more about cancer rehabilitation at Piedmont.
Tags
Suggested Articles