Sustenance
Corn cakes with shrimp and jalapeño-lime drizzle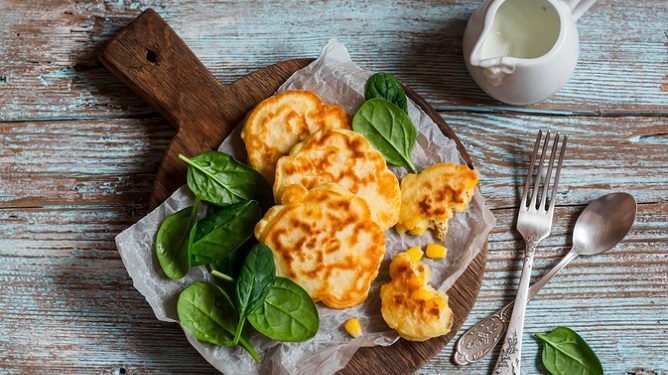 Sustenance
Corn cakes with shrimp and jalapeño-lime drizzle
Savor fresh summer produce with these healthy corn cakes that can be served with a variety of sauces and toppings.
"When fresh corn starts rolling into the market, I'm there," says Nancy Waldeck, a chef at Thomas F. Chapman Family Cancer Wellness at Piedmont. "I love corn from the cob, in salad and in these fun and easy corncakes. No matter what you top them with, these corn cakes rock. They are one of my signature 'better can taste better' recipes. I've served them with not only shrimp and jalapeño-lime drizzle, but also with pulled barbequed chicken and pickles. Make a double or triple batch and freeze some for later."
Ingredients:
1 large egg

1.25 cups light buttermilk

1 tablespoon olive oil

¼ cup chopped red or green jalapeños (or bell red pepper if you want to avoid the heat), seeds and ribs removed

1 tablespoon minced cilantro

½ cup cornmeal

½ cup whole wheat pastry flour (or all-purpose flour)

½ teaspoon baking soda

1 teaspoon baking powder

¼ teaspoon sea salt

1 cup grilled corn, cut from the cob (from about two ears of grilled corn)

12 large broiled or grilled shrimp

Jalapeño lime drizzle (see recipe below)
Instructions:
Mix together egg, buttermilk, olive oil, chopped peppers and cilantro in a bowl.

In another larger bowl whisk cornmeal, flour, baking soda, baking powder and salt.

Stir egg mixture into cornmeal mixture and mix until just combined. Stir in corn.

Preheat a sauté pan or a griddle, coated with nonstick spray. Drop about 2 tablespoons of corn cake batter onto pan and cook until firm, flipping only once. You should have between 12 to 16 corn cakes. Serve each corn cake topped with a shrimp and add jalapeño-lime drizzle.
Jalapeño-lime drizzle
Ingredients:
1 cup regular nonfat yogurt

¼ cup light buttermilk

2 minced jalapeños, seeds and ribs removed

¼ cup chopped cilantro

Zest and juice of one lime
Whisk together ingredients and drizzle over shrimp.
Check out more recipes and nutrition tips from Cancer Wellness experts.
Share your thoughts
Suggested Articles