Savor the season: Fall produce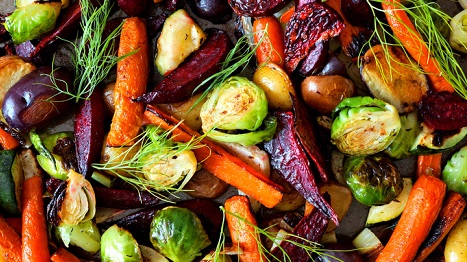 Savor the season: Fall produce
With each new season comes a fresh crop of vegetables and fruits. Fall produce makes it easy to create cozy, satisfying and healthy recipes. Plus, eating what's in season means you will likely get more affordable, flavorful and nutritious meals.
"When I think of fall produce, I think of light comfort foods that won't weigh me down, like winter squashes, pumpkins, root veggies and warm baking spices like cinnamon, nutmeg, ginger, and cloves," says Nancy Waldeck, a chef at Cancer Wellness at Piedmont.
"Don't be afraid to use fall veggies in new and creative ways," she says. "Try roasted sweet potatoes as croutons, use pureed or canned pumpkin to substitute half of the fat in a recipe, or experiment with new and different root veggies like parsnips, rutabaga or celery root. Most grocery stores carry more than potatoes and any root vegetable when roasted becomes delicious."
How to roast vegetables
To roast vegetables, preheat the oven to 400 degrees. Wash and chop the vegetables into bite-sized pieces. Toss them with a small amount of plant-based cooking oil (avocado or olive oil works well) or spritz them with an oil spray.
Spread the veggies evenly on a baking sheet lightly greased with the cooking oil. Sprinkle them with your favorite herbs, spices, sea salt and pepper to taste.
Place in the oven and roast until they are golden brown and crispy on the edges: About 45 minutes for root vegetables like sweet potatoes and parsnips, or 20 minutes for cruciferous veggies like Brussels sprouts or broccoli.
What vegetables and fruits are in season this fall?
The following fruits and vegetables are at their peak in the autumn months:
Apples

Beets

Bell peppers

Broccoli

Brussels sprouts

Cabbage

Carrots

Cauliflower

Cranberries

Fennel

Figs

Garlic

Grapes

Greens (collards, kale, lettuce, spinach, swiss chard)

Leeks

Mushrooms

Onions and shallots

Parsnips

Pears

Pomegranates

Potatoes

Pumpkins

Quince (tastes similar to pears and apples; must be cooked before eating)

Radishes

Sage

Sweet potatoes

Winter squash (butternut, acorn and spaghetti)
Once you've loaded up on fall produce, try one of Waldeck's favorite fall recipes:
Pumpkin hummus with goat cheese
Roasted fall veggies with maple syrup vinaigrette
Check out additional healthy fall recipes to use your bounty of produce.
Tags
Suggested Articles