How to get moving when you are fatigued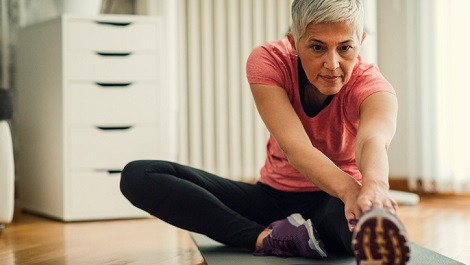 How to get moving when you are fatigued
Note: Always talk to your doctor before starting or continuing an exercise routine during and after cancer treatment. Your safety and health are the top priority. You may need an exercise physiologist or physical therapist to help you safely start exercising again.
We all know physical activity is important for good health, but what should you do when you feel fatigued, whether it's from cancer treatment, stress or a hectic schedule? Maureen "Mo" Dwyer, a fitness instructor at Cancer Wellness at Piedmont, shares her tips for staying active even when your energy level is low.
"Exercise can help with cancer treatment recovery and may reduce the chance of cancer returning," says Dwyer. "It also helps improve muscle strength and cardiovascular function. Most importantly, it improves your mood. Many people who exercise find themselves feeling happier and more positive."
Benefits of exercise during the cancer journey
According to the American Cancer Society, regular moderate exercise (such as a brisk walk) during cancer treatment can:
"I have participants who come to class after chemo and are totally drained, but they do some of the poses and feel better about coming to class," she says. "Once we enter into Savasana (relaxation/meditation), they are grateful they made it through class. It allows them to engage in mindful awareness without effort or exertion. It's healing for the mind and the body."
Exercises to combat fatigue
Dwyer recommends the following types of exercises once you are cleared by your doctor to work out:
Aerobic exercise: Walk outside for five to 10 minutes three times a day.

Strength training: Lift light weights.

Stretching: Try chair yoga or gentle yoga.

Yoga breathing: Sit and inhale through the nose and exhale through the nose. Breathing exercises help clear the mind and help restore balance in the mind and body. It also reduces anxiety and depression.
"Give yourself permission to break up the routine during the day," she says. "In my classes, I always tell participants to take a break or not do a certain pose if their body is saying, 'not today.' Always listen to your body."
Signs you should take a break from exercise
"If you truly feel exhausted or if you are running a fever, I don't recommend working out," says Dwyer. "If you are having trouble moving into poses, switch to yoga breathing exercises instead. The key is to learn to listen to your body."
See more fun, feel-good ways to get moving.
Tags
Suggested Articles