Pumpkin hummus with goat cheese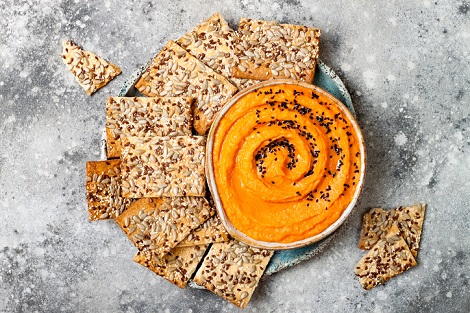 Pumpkin hummus with goat cheese
Chef Nancy Waldeck: Who says hummus can't sing with the flavors of fall? This twist on hummus uses canned pumpkin to amp up the creaminess of the white beans.
Ingredients:
2 (15-ounce) cans of cannellini beans, drained and rinsed

1 cup canned pumpkin (2/3 of one 15-ounce can)

2 tablespoons lemon juice

2 garlic cloves, grated

1 teaspoon sea salt

1 teaspoon cumin

½ teaspoon allspice

1 teaspoon smoked paprika

1 cup crumbled goat cheese

½ cup toasted pumpkin seeds (reserve about 2 to 3 tablespoons for garnish)
In a food processor, add all ingredients except the goat cheese and 2 to 3 tablespoons of pumpkin seeds. Remove from the processor, spread on a plate and sprinkle with pumpkin seeds and goat cheese. Enjoy!
Check out additional healthy fall recipes to use your bounty of produce.
Tags
Suggested Articles