Indian-inspired veggie soup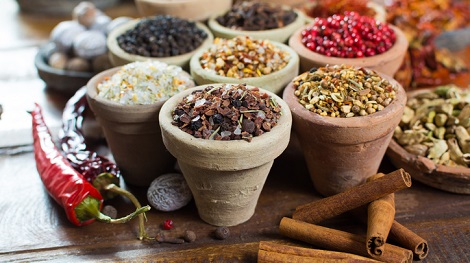 Indian-inspired veggie soup
Chef Nancy Waldeck: This soup uses Garam Masala, a spice blend from India that includes warm baking spices like cinnamon, coriander and cardamom to make the soup pop with fall flavor.
Ingredients:
1 tablespoon avocado or olive oil

2 cups chopped red onion

1 tablespoon grated fresh ginger

1 grated garlic clove

1 tablespoon Garam Masala

4 cups vegetable broth

2 cups chopped carrots

1 cup chopped parsnips

2 (15-ounce) cans of chickpeas

2 cups chopped cilantro
Step one
Heat the oil in a medium sauté pan. Add the onion; cook and stir for about five minutes.
Step two
Add the ginger and garlic; cook until fragrant. Then add the Garam Masala, cook for one minute more, then add the stock and carrots. Simmer for 10 minutes and then add the chickpeas.
Step three
Use an immersion blender to puree the soup, leaving it a little chunky. Garnish with cilantro.
Check out additional healthy fall recipes to use your bounty of produce.
Tags
Suggested Articles