Navigating the holidays during your cancer journey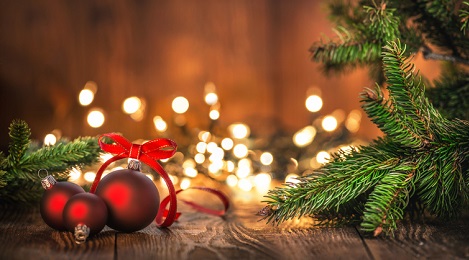 Navigating the holidays during your cancer journey
The holidays are a joyful time of year, but they can also bring up intense emotions, like grief, stress and disappointment, especially during the cancer journey.
"Along the journey, you are facing aspects of a reality you did not choose," says Lauren Garvey, LPC, CRC, NCC, a counselor and facilitator at Cancer Wellness at Piedmont. "The perfect holiday images we see in the media can put a lot of pressure on the holidays to be a time of perfection. If that's not your experience, it can be very painful. Comparison can steal your joy and peace."
The holidays can also add more chaos to an already stressful season of life.
"We might be more stressed and fatigued than usual during cancer treatment," she says. "In addition to physical symptoms, the cancer journey might have changed our relationships and financial situation. The holidays can cause additional stress and fatigue and the last thing we want is to go into this busy season not feeling well."
Honor where you are
It is possible to celebrate the holidays and honor where you are right now. Garvey recommends the following:
Shift your mindset. "Rather than thinking about holidays in the past or the way you'd like things to be, try embracing the present moment and ask yourself how you can make the best of where you are right now," says Garvey. "This doesn't mean ignoring your feelings, but embracing gratitude and imperfection can help you let go of the pressure for things to be how they were before."

Ask for what you need. If you normally host a dinner or party, perhaps another relative or neighbor can host this year. If you prefer to host a potluck instead of cooking a big meal, do that. It's okay to ask for help or make adjustments as needed.

Set boundaries. "Say no to something that doesn't work for you," she says. "This holiday season might be different from those in the past. Communicate to your family and friends what is different and what you are or aren't willing to do."

Exercise, socialize, verbalize. Garvey likes to remember the phrase "exercise, socialize, verbalize" during high-intensity times. Get moving (even if it's just walking to the other side of the house or to the end of your driveway), call a friend, see a counselor or attend a support group at Cancer Wellness.

Make a wellness plan. Whether you enjoy reading, watching your favorite holiday movie, writing a gratitude letter, calling a friend, going for a walk or drinking a cup of hot tea, brainstorm wellness and self-care activities you can do to recharge.
Grief during the holidays
Grief can feel more pronounced during the holiday season.
"We have a very visceral, emotional response to the holidays because they are full of such intense, emotional arousal and memories," she says. "When people we love have passed away or certain aspects of our lives have changed, that can be overwhelming."
If you are in a season of grief:
Embrace your memories. "For people who have lost loved ones, it can feel good to sit down and share memories of the person they love so much," she says.

Acknowledge it's okay to do things differently. "It's okay to create new memories," says Garvey. "You are not doing a disservice to your loved one who passed away."

Seek extra support. "It's not unusual for people to seek support from a counselor during the holidays," she says. "It can be a stressful, chaotic time of year. If you are experiencing a higher level of grief, let someone know and get more support."
Choose what this season means to you
"We are all active participants in determining what the holidays mean to us," says Garvey. "Movies, society and culture don't get to decide what the holidays mean to you – you do. It can vary depending on the season of life you're in. I encourage anyone on the cancer journey to choose the meaning that feels best to them, that brings them more peace, calm and joy."
Learn more ways to boost your mental and emotional well-being.
Tags
Suggested Articles