Crafting for stress relief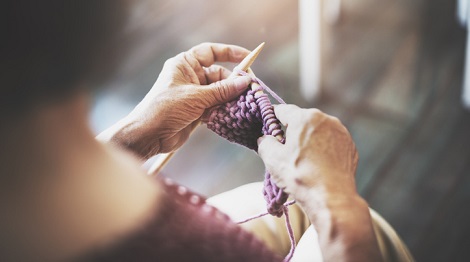 Crafting for stress relief
Whether you want to take your mind off your worries, try a fun new skill or release some stress, crafting can be another outlet for you to pursue wellness.
"Crafting can help move people from inactivity to engagement and it tends to make them feel good," says Gayle Torres, ATR-BC, a board-certified art therapist at Cancer Wellness at Piedmont. "While it isn't art therapy, crafting does offer stress reduction."
She highlights the broad benefits of the creativity classes at Cancer Wellness, including the building of community, guidance and variety.
Torres says some of the health benefits of creative activities, such as craft projects, include:
Improved hand-eye coordination

A sense of accomplishment

Distraction from worries

Relaxation and lowering of blood pressure
"Crafting projects can help the brain send signals to the body that all is well," she says. "Blood pressure and tension are reduced, resulting in a sense of well-being."
Crafting projects to try
When deciding on a craft to try, Torres suggests starting with an activity that is achievable. You can also start by taking a class or following an online tutorial.
"Think about what you enjoyed in your younger years, or visit a museum or craft fair," she suggests. "Explore a few activities. Sometimes it takes practice and experience to feel like you've got a creative side."
Crafting means different things to different people. If you are looking to add some creativity to your life, try one of the following activities:
Cake decorating

Crocheting, knitting and fabric arts

Decoupage and paper crafts

Embroidery

Giftwrapping

Papier-mâché

Quilting

Sewing
"Engaging in creativity can help you feel more alive," she says.
Get inspired by more creative ways to express yourself.
Tags
Suggested Articles