The health benefits of music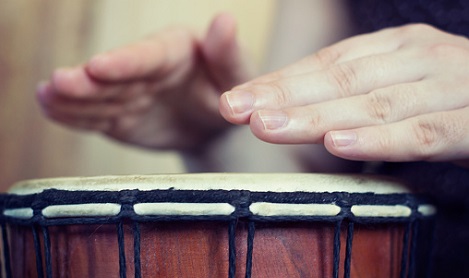 The health benefits of music
Music has the power to improve our moods, energy and stress levels.
"Think about a time when you heard a song on the radio that changed your mood for the better," says Caroline Beson, LPMT, MT-BC, a licensed, board-certified music therapist contracting with Cancer Wellness at Piedmont. "People usually know what kinds of music will be best for their health. It's the music that helps you feel rejuvenated, joyful, hopeful, energized or peaceful."
Because music is so diverse, it has a variety of health and wellness benefits:
It boosts motivation and energy. "Listening to your favorite music can be a great way for healthy people to stay motivated during physical activity and it can aid in coordination," says Beson.

It reduces anxiety. "Listening to slower music with a predictable rhythm, as a part of meditation practice, for example, is effective in reducing anxiety levels for many people," she says.

It gives your brain a workout. "Active participation in music-making engages the whole brain," says Beson. "This can help form new connections in the brain, which means making music is a great way to stay active mentally."

It gives your body a workout too. "Making music is also a physical activity," she explains. "Singing or playing an instrument is part recreation and part exercise."

It provides an opportunity to socialize. "Singing and playing music are quite often done in social groups, so if you enjoy singing, you may find even more health benefits by joining a choir than by singing in your shower," says Beson.

It may decrease pain and depression. A 2012 study found that listening to music twice a day helped participants with chronic disease experience less pain and fewer symptoms of depression.
Beson recommends engaging with music in the way that feels right to you. There is not one type of music that has the most benefits. Instead, listen to or play the music that feels good to you and expresses how you feel or want to feel.
"Think about how music affects your emotions and use it carefully," she says. "If you are listening to music that has a negative impact on your mood or well-being, you can change the music or turn it off. This can be a normal experience, but if it happens frequently, consider talking with a mental health provider or music therapist."
How to incorporate more music into your life
Think of music as another component of your wellness journey – when used appropriately, it can help support your mental, physical and emotional well-being. If you'd like to add more music to your life, there are many ways to get started.
Listen to music throughout the day. Turn on some tunes while getting ready, driving, cooking, cleaning, etc.

Make music and sing. Play an instrument, take a music lesson, sing in the car or shower, tap your foot along to the music, drum on your steering wheel -- have some fun!

Dance to music. Feeling down? Have a mini dance party and dance around the house to a favorite song, follow a dance workout video online or take a dance class.
"There are plenty of community resources for adults to participate in musical activities," says Beson. "Take advantage of a yoga class if you like music and movement, try a drumming group, or celebrate friends, family, and healthcare staff with a song – it's surprisingly fun to sing someone a 'Happy Unbirthday!'"
Get inspired by more creative ways to express yourself.
Tags
Suggested Articles