A chaplain's role in the healthcare team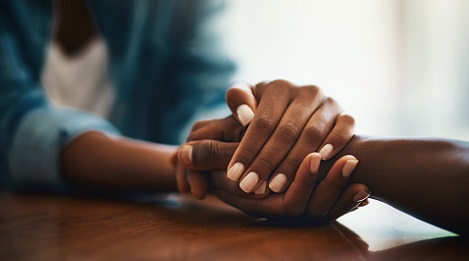 A chaplain's role in the healthcare team
"People on the cancer journey often experience a rollercoaster of events and emotions," says Kim Holman, a chaplain at Piedmont Fayette. "One day they get good news; the next, not so good. They wait with bated breath for every CT scan or bloodwork results. It's exhausting."
The cancer journey can take a toll on your physical, mental and spiritual health. That's where a chaplain comes in.
"Overall, a chaplain is a really good listener," she says. "That's the primary skill of a chaplain – to go into another person's world, sit there and listen. We help that person understand what's going on in their own terms and how their spirituality can strengthen them through whatever crisis they're in."
Chaplains support people of all faith backgrounds
"I get asked all the time, 'What church are you from?' As a hospital chaplain, even though I have my own faith background, I'm here to serve the spiritual needs of anyone who would like to meet with me," she says. "I meet with people who are Catholic, Baptist, Buddhist, Hindu, Muslim and so on. My job is not to change their faith tradition to match mine; my job is to learn what is important to them and help them honor that as they make decisions and think through what is going on around them."
Chaplains can:
Assist with sacraments or religious rituals

Help with advance directives

Listen when you need to talk

Pray with you

Provide a calm presence when you don't want to be alone
Chaplains provide a safe space to be honest
"Our role as chaplains is to provide people with a safe place to vent because the journey can be so difficult and tumultuous," she says. "We give people a safe space away from family and friends to acknowledge that they are scared and don't know what will happen. We offer a confidential place to talk through their hopes, dreams, fears and what matters to them."
What training do chaplains have?
Holman says chaplains are required to have a master's degree – usually a Master of Divinity from a seminary, which requires three years of graduate-level work. To become a chaplain after earning their master's degree, they must complete clinical pastoral education (CPE).
"Just like a doctor goes to medical school and has a residency, chaplains must go to school and then complete CPE, which takes about one to two years," she explains. "Professional chaplains must go through a lot of training and many go on to be endorsed or certified by their own religious group. There are many checks and balances to make sure chaplains know what they are doing before they start seeing patients."
How to meet with a chaplain
If you would like to talk with a chaplain, Holman recommends contacting your Cancer Wellness Center coordinator, who can call a hospital chaplain to meet with you. Alternatively, you can call your hospital directly and ask to speak with a chaplain to set up a private appointment.
"We would be honored to walk with you through your cancer journey and would be glad to be part of your care team if you choose," she says. "Please call us if you think meeting with a chaplain would be helpful to you."
Learn more about support during the cancer journey.
Tags
Suggested Articles