Should you join a support group?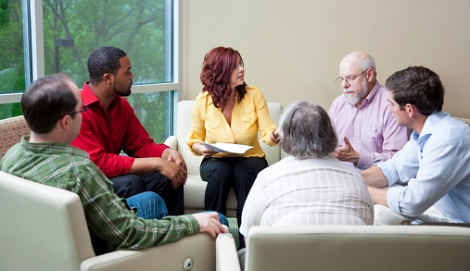 Should you join a support group?
Are you curious about joining a support group, but unsure if it's right for you? Emma Stein, Ph.D., a licensed clinical psychologist at Cancer Wellness at Piedmont, shares the benefits of support groups and what to expect.
"Many cancer patients, survivors and caregivers struggle with feeling alone and isolated," Stein explains. "A support group can provide an invaluable opportunity to connect with individuals who are going through a similar life experience. Participants have the opportunity to learn what has helped other people cope with the stress that can come with a cancer diagnosis and exchange tips and information, all under the guidance of a trained facilitator."
Is a support group right for you?
Whether you are currently going through cancer treatment, are post-treatment or are in survivorship, the opportunity to speak with others on a similar road is helpful throughout the cancer experience.
"Even those who are more introverted are often surprised at just how quickly they feel comfortable sharing their story," says Stein.
Support groups for caregivers
Caregiving can be physically and emotionally taxing. Many caregivers feel isolated and put their own needs on hold while taking care of their loved ones, explains Stein.
"Support for caregivers is so important and, unfortunately, often overlooked," she says. "Research finds that the emotional impact of cancer on the caregiver is as high, if not higher, than it is on the patient."
Support groups can help caregivers feel less isolated when they learn others in the group are facing similar stressors. The group also provides a sense of community, whether you need advice or want to talk through a concern.
What to expect in a support group meeting
Support group meeting styles vary based on the facilitator.
"Most of the time, introductions are made and you may be asked to share pieces of your cancer journey and what brings you to the group. Otherwise, there is so much variability," she says. "Some are open-ended and have no agenda, while others have defined themes and goals that might guide each session."
Make the most of your support group experience
It is normal to feel nervous when joining a new group, but it is usually worth pushing through anxiety to take part in something that can be extremely rewarding and beneficial.
"I encourage participants to have a sense of openness and honesty, and to share their experiences," she says. "Go in with an open mind, put aside any preexisting assumptions and be willing to try something new."
It's helpful to attend the group meeting than once, so if you are on the fence after one session, return a few times to get a good feel for if it's right for you.
"It can be hard to share pieces of your story and express intimate personal details to a room of people you've don't know well," says Stein. "But I've seen individuals experience the incredible process of connection in just one session."
Find the right support group for you
There are many support group options for cancer patients, survivors and caregivers.
"Find a group where you connect with the other group members and the facilitation is a style you like," she says. "Some people like support groups that talk about cancer, while others prefer to explore different topics. You might be surprised by what's a good fit."
If you find that a support group doesn't offer enough support for you, you may benefit from individual therapy in addition to or instead of a support group, she adds. Talk to your group facilitator or Cancer Wellness Center coordinator for more information about individual counseling.
Find a Cancer Wellness support group near you.
Tags
Suggested Articles