Middle Eastern yogurt garlic sauce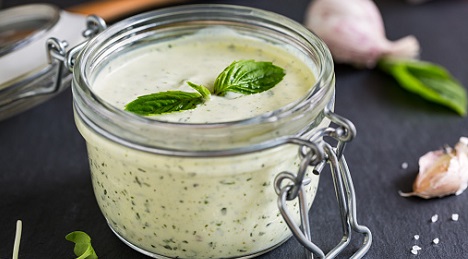 Middle Eastern yogurt garlic sauce
Chef Nancy Waldeck: In any dip calling for mayo or cream cheese, you can substitute half nonfat Greek yogurt for the ingredient. The yogurt brings a little protein and less fat, and since it's so creamy, no one will catch your better-for-you secret.
Ingredients:
2 cups plain Greek yogurt

1 garlic clove, grated

1 tablespoon chopped chives

1 tablespoon chopped cilantro

1 tablespoon chopped basil

2 tablespoons fresh lemon juice

1 tablespoon lemon zest

1 teaspoon sea salt

Extra-virgin olive oil

Flaky sea salt
Mix all the ingredients, except for the olive oil, together in a bowl. Drizzle with oil and serve with fresh veggies for dipping.
Check out more recipes and nutrition tips from Cancer Wellness experts.
Tags
Suggested Articles