Roasted garlic aioli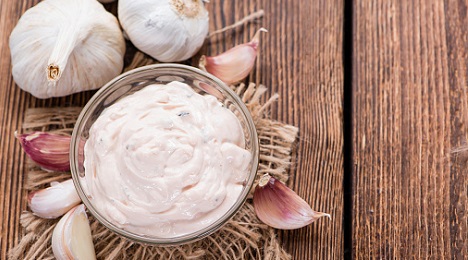 Roasted garlic aioli
Try this roasted garlic aioli recipe by Nancy Waldeck, a chef at Cancer Wellness at Piedmont. She recommends serving it with roasted baby potatoes and chicken, or shrimp skewers and lemon wedges.
Ingredients:
2 heads garlic

3 tablespoon extra-virgin olive oil

Sea salt and freshly ground black pepper

1 cup olive oil mayo

¼ cup lemon juice

2 teaspoons Dijon mustard

½ teaspoon Worcestershire sauce

Dash hot sauce

¼ cup chopped parsley

Lemon wedges
Step one
Preheat the oven to 425 degrees. Cut the tops off the heads of garlic and place both in a square of aluminum foil. Drizzle with the olive oil and sprinkle with salt and pepper. Close the foil to make a packet and put on a baking sheet. Slide into the oven and roast for 45 minutes or until browned and soft. Remove from the oven and when cool, squeeze the garlic into the bowl of a food processor.
Step two
Add the mayo, lemon juice, Dijon mustard, Worcestershire sauce and hot sauce to the food processor, and puree until creamy. This aioli is best made at least four hours in advance and stored in the fridge covered tightly to allow flavors to soften. Garnish with parsley.
Tip: You can also serve the roasted garlic on its own with crusty whole wheat bread.
Check out more recipes and nutrition tips from Cancer Wellness experts.
Tags
Suggested Articles