Sweet onion soup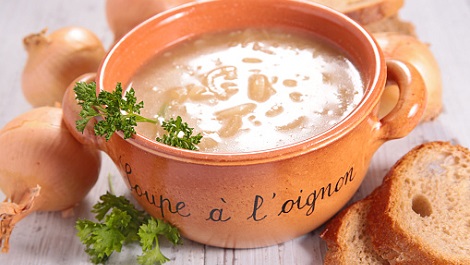 Sweet onion soup
Chef Nancy Waldeck: Did you know that sweet onions are grown all over the world? Here in Georgia, they are called Vidalia onions. Texas claims "Texas Sweets," Washington state grows "Walla Walla Sweets," and Hawaii, Bermuda and France all grow sweet onions too.
Use your bounty of sweet onions to create this comforting and healthy sweet onion soup.
Ingredients:
4 large Vidalia or other sweet onions, thinly sliced

1 tablespoon sweet smoked paprika

1 tablespoon sea salt

1 teaspoon freshly ground pepper

2 grated garlic cloves

8 cups veggie stock

1 teaspoon dried thyme

1 bay leaf

2 cups shredded Swiss or Jarlsberg cheese
Step one:
In a large stockpot, add the onions, smoked paprika, salt and pepper. Cook, stirring frequently for 15 minutes. Add the garlic and cook until fragrant, about one minute. Reduce the heat to low and continue cooking, stirring occasionally, until the onions are thoroughly caramelized, about 15 minutes.
Step two:
Add the stock, thyme and bay leaf. Bring the soup to a simmer and cook for 30 more minutes. Remove the bay leaf and place the soup in individual ramekins. Sprinkle the soup with shredded cheese and place under the broiler for a few minutes until the cheese melts.
Check out more recipes and nutrition tips from Cancer Wellness experts.
Tags
Suggested Articles