Summer party dishes that hold up in the heat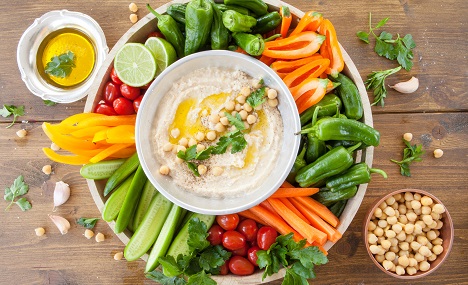 Summer party dishes that hold up in the heat
If you're invited to a pool party, barbecue, picnic or potluck this summer, one of your first questions was probably, "What should I bring?" Summer is a season of celebration, fresh produce and steamy temperatures, which means you need a dish that's festive, fresh and holds up well in high heat.
Beci Falkenberg, a chef at Cancer Wellness at Piedmont, shares her best tips for selecting, preparing and transporting dishes for summer get-togethers.
Select the right ingredients
"Choose foods that hold up well when traveling and don't require refrigeration," says Falkenberg. "Prepare fresh vegetable salads made without dairy products, which need refrigeration and can spoil easily."
Two of her favorite recipes are her fresh summer succotash salad and tomato melon salad.
"They are a couple of my favorite summer recipes because the ingredients are in season and at the peak of flavor," she explains.
When in doubt, pack foods that hold up well in the heat and travel well. Falkenberg recommends:
Fresh-cut vegetable and fruit trays with healthy dips (think flavorful vegetable or fruit salsas)

Healthy snack mixes made with seeds, nuts, and dried or freeze-dried fruit

Sturdy bars or cookies without messy frostings
Tips for transporting your dish
Avoid arriving at your destination with a melted or messy dish by following these tips from Falkenberg:
Separate your dishes to keep hot food hot and cold food cold.

Use clean, thick towels and thermal bags to insulate hot items.

Place frozen blue ice packs or bags of ice around heavy foil-wrapped cold foods in an insulated bag before putting them in a cooler.

Use separate coolers for food and drinks. The more often a cooler is opened (like for drinks), the more cold air it releases.
Assemble your dish when you arrive
If possible, add dips, dressings, toppings and garnishes right before serving for best presentation, says Falkenberg.
"For example, pre-wash and pack some fresh basil with several ripe beefsteak tomatoes," she says. "Once you arrive at your destination, thickly slice the tomatoes, arrange them on a platter with the basil, drizzle with olive oil and add salt and pepper."
Prevent food poisoning
To reduce the chances of food poisoning:
Wash your hands thoroughly with soap and water before preparing foods; after touching raw meat, fish or eggs; and before eating.

Wash fruits and vegetables before slicing or peeling them. Even if you don't eat the skin, you can still cross-contaminate when slicing the produce, so always rinse well first.

Serve cold foods (especially those containing dairy products) in a large bowl filled with ice to keep foods under 40 degrees.

Set out small portions, then replenish as needed with food from the refrigerator, cooler, warmer or insulated bag.

Pay attention to the time. Toss food left sitting out after two hours if the temperature is below 90 degrees; if it's hotter than 90 outside, discard the food after an hour.
Check out more recipes and nutrition tips from Cancer Wellness experts.
Tags
Suggested Articles