Greek goodness bowls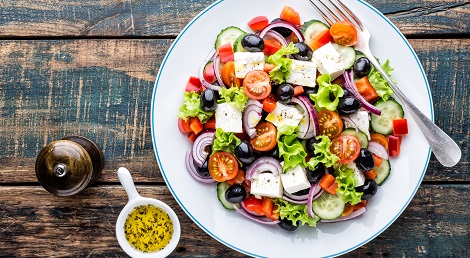 Greek goodness bowls
Use this list of ingredients from Beci Falkenberg, a chef at Cancer Wellness at Piedmont, to create your own Greek-inspired goodness bowls full of fresh green vegetables, protein and flavor. Drizzle your bowls with a little vinaigrette and enjoy!
Ingredients:
Greens: Any leafy greens or combination such as spinach, kale, spring mix, etc.

Cooked chickpeas

Cherry tomatoes, diced

Cucumber, diced or sliced

Bell pepper or roasted red peppers, diced or sliced

Red onion, diced

Kalamata olives, whole or sliced

Feta cheese, crumbled

Artichokes or banana peppers

Optional protein: Cooked chicken or shrimp, wild-caught canned sardines or hummus

Optional grains/starches: Cooked quinoa, brown rice, whole wheat couscous, roasted cubed sweet potato or baked pita chips

Optional healthy fat: Avocado
To create your bowl, start with a big handful of greens. Layer the vegetables, chickpeas/optional protein, ½ cup of grains or 2 tablespoons of hummus, a little onion, olives and feta cheese. Then, lightly drizzle the vinaigrette; you will not need much with all the flavorful toppings.
Basic vinaigrette
Ingredients:
½ cup olive oil

3 tablespoon red wine vinegar

1 clove garlic, minced or ¼ to ½ teaspoon garlic powder

1 teaspoon Dijon mustard

1 teaspoon sea salt

1 teaspoon dried oregano or Italian spice blend

½ teaspoon black pepper
Combine all ingredients in a small bowl and mix well; taste and adjust seasoning, if needed.
Marinade for chicken
Ingredients:
¼ cup olive oil

¼ cup white or red balsamic vinegar

½ teaspoon garlic powder and black pepper

¾ teaspoon salt

1.5 tablespoons Italian seasoning spice blend
Marinate two to three large chicken breasts/thighs for 20 minutes to one hour before cooking.
Check out more recipes and nutrition tips from Cancer Wellness experts.
Tags
Suggested Articles