How the beach is good for the mind and body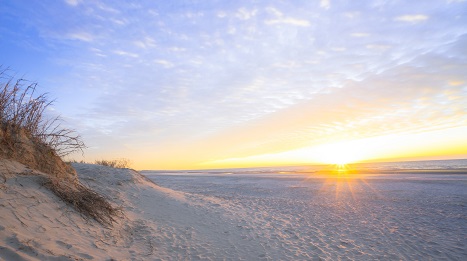 How the beach is good for the mind and body
What is it about the beach that gives us a sense of relaxation and peace? Angela Buttimer, MS, NCC, RYT, LPC, a licensed psychotherapist at Cancer Wellness at Piedmont, shares the mind-body benefits of time by the water and how you can reap the benefits at home all year long.
As Buttimer explains, the two main reasons you feel so relaxed at the beach is because you are likely on vacation and more in touch with nature, whether you are watching a sunrise or the ebb and flow of the tide.
"The beach can also offer psychological and spiritual metaphors for things we want in our lives that sometimes escape us: spaciousness, playfulness and a sense that time has slowed down," she says. "People want these things in their lives, but don't feel they can connect with them."
The physical health benefits of the beach
The sights, smells and sounds of the beach tend to be nurturing and uplifting.
"Research on sound healing has found that the sound of the beach is very healing; just listening to the waves relaxes the neurophysiology," explains Buttimer. And we know that relaxation is good for both the body and the brain.
"Think about the sounds you hear at the beach – you don't often hear people fighting or listening to the news," she says. "Instead, you likely hear laughter, children playing, silence or the sound of the waves. All of that is uplifting."
The spiritual benefits of the beach
"I think as a society, whether we are working or not, we tend to overdo what we call 'task orientation' in psychology," says Buttimer. "We neglect our relationships and wellness in favor of accomplishing. When we can step away from our regular lives, this time away reminds us of what makes us happy and peaceful."
Unfortunately, people can go all year and say, "I'll relax when I get to the beach." But a week at the beach isn't enough for long-term wellness.
"We need to step away from the noise of our lives on a regular basis," she says. "When we do, we come back to our tasks with renewed energy and perspective. We will be more productive and effective when we take breaks."
Cultivating a "beachy" mindset at home
Buttimer suggests a visualization exercise in which you go to your favorite beach in your mind, imagining the sights, smells, sounds and how your body feels.
"Your brain doesn't know the difference between real and imagined, and it will release the neurochemicals that are released at the beach if you put yourself there mentally," she says.
Then, consider how you can begin to incorporate some of these psychological and spiritual essences into your daily life. These takeaways are unique to each person, she says. Some are tangible, like:
Lighting a beach-scented candle or diffusing essential oils

Decorating your home with soft, coastal-inspired colors

Wearing a perfume that reminds you of the beach

Taking time to watch the sunrise and sunset at home

Displaying a photo on your desk of your favorite coastal destination
Others are less tangible, such as:
Buttimer also suggests taking mental health days and three-day weekends whenever you can.
"I suggest taking long weekends on a regular basis – and not just on holiday weekends when you have so many plans," she says. "Find little ways to take breaks and go on mini-vacations. Take off work early. Go outside and get some vitamin D."
She also notes that not everyone's "happy place" is at the beach. Some people find their happy place in the city, at the lake or in the mountains. These principles can apply to wherever makes you happiest.
Learn more ways to reduce stress and improve your well-being.
Tags
Suggested Articles